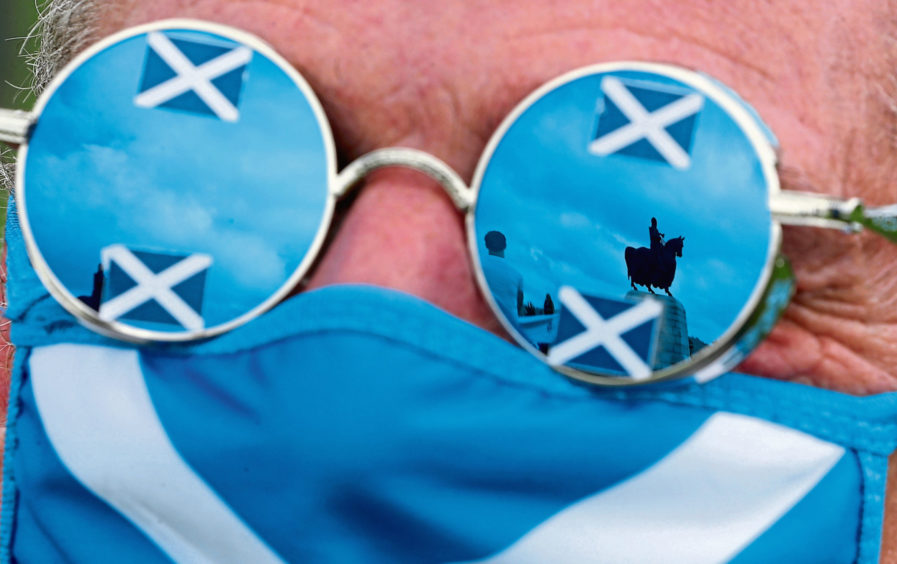 An interesting experiment in Scotland's future is about to take place. The UK chancellor is going to set a budget aimed at correcting a huge deficit.
That's exactly what an indy government would have to do. Scot Nats – watch and take notes.
Archimedes said "give me a lever and I can move the world". But even he knew this to be wrong. Space does not offer the necessary fulcrum to shift the planet.
Nonetheless, Indy economic theory clings to the idea that levers are universally effective. Give us the economic levers, they cry, and they'll move Scotland into the black.
Chancellor Rishi Sunak has all the levers. His challenge is to fix the government's debt, currently standing at over 100% of our national wealth, without damaging recovery or services.
Most economists claim Scotland already runs a deficit of around £15 billion. Assume that continues after Indy, and assume spending goes up to improve services, and you'll soon have a lot of zeros in the red. Same problem as Sunak's.
The SNP have contested this picture. So confident was the former finance minister Derek McKay that there was an alternative reality, he promised the Scottish Government would publish the Economics of Independence.
That plan, much like McKay's career, has been cancelled. Thirteen years in government and the SNP have yet to show their workings.
That has not stopped the cry for levers. Finance minister Kate Forbes made it her defence against the latest estimates of Scotland's deficit. She should study Sunak's dilemma carefully.
The UK chancellor has one tool Scotland would not have at first – reputation. Existing states which pay their debt are broadly trusted by lenders. Japan has been running a huge debt for decades. The markets trust it to plod on, so they lend.
Sunak could take the view that borrowing is cheap and the UK is trusted, so carry on and keep calm. He is not of this camp. He fears that things can only get worse and wants to stop the slide. So taxes must rise to bring in more cash to the Treasury.
His problem is the politics. He could end the ludicrously generous triple lock on pensions, but that would be a kick in the dentures to true blue pensioners.
He could raise capital gains tax, but that would irritate entrepreneurs.
Boosting taxes on second homes would be fine with most of the population, but ruin the holidays of the richest. Sources float the idea of a rise in corporation tax to somewhere closer to the EU average. Cutting this levy was a chief wheeze of Salmond's SNP. The UK has been reducing corporation tax for years, to Salmondish levels. To put it up again would hit big businesses just as they were trying to recover.
All of the above fly in the face of the Tory promise that Brexit Britain will be super competitive and a home for risk-taking entrepreneurs. Ironically, the UK would become more like continental rivals in terms of tax rates and overall tax take.
That would not please Tory MPs. With the party in turmoil over Johnson's endless U-turns, this budget could make or break Boris's future. The lever to remove him from office, possibly.
What the dilemma shows is that levers are not everything. All developed countries have all the levers and yet all are pretty much in the same place, economically. China demonstrates that the lever of state control can really work, but while Tory economic thinking has shifted to the left, there are limits.
It also shows that the view from any treasury – regardless of the party in power, irrespective of developed nation – is pretty consistent. There are a few things you can do, you can't be sure if they'll work, and cannot know of their long-term effects.
Gordon Brown cut income tax to 20%. It reduced the tax burden, but also government income, and has set a precedent which is hard to be overturned.
There is no evidence it's eased life for the low paid. Theresa May promised a policy of people selling their homes to pay for elderly care. Brown's policy was popular, but problematic. May's was sensible, but hugely unpopular in the 2017 election.
With slow growth and rising costs and debt obligations, taxes must rise. Sacred cows like pensions and capital gains on first homes must be considered. Manifestos win votes, they don't pay the bills, and the UK is running out of options.
If Sunak does find a clever blend of tax rises and policy changes, which address the deficit, help recovery and don't damage services, then no one should object.
The SNP will, claiming if only they had the levers, it would all be different. Yet the truth is that the levers are an illusion. It's the politics that matter.
And until you reveal your hand, you can never claim to have a better plan. With the Economics of Independence cancelled, the Nats' economic case looks as fragile as Tory unity.