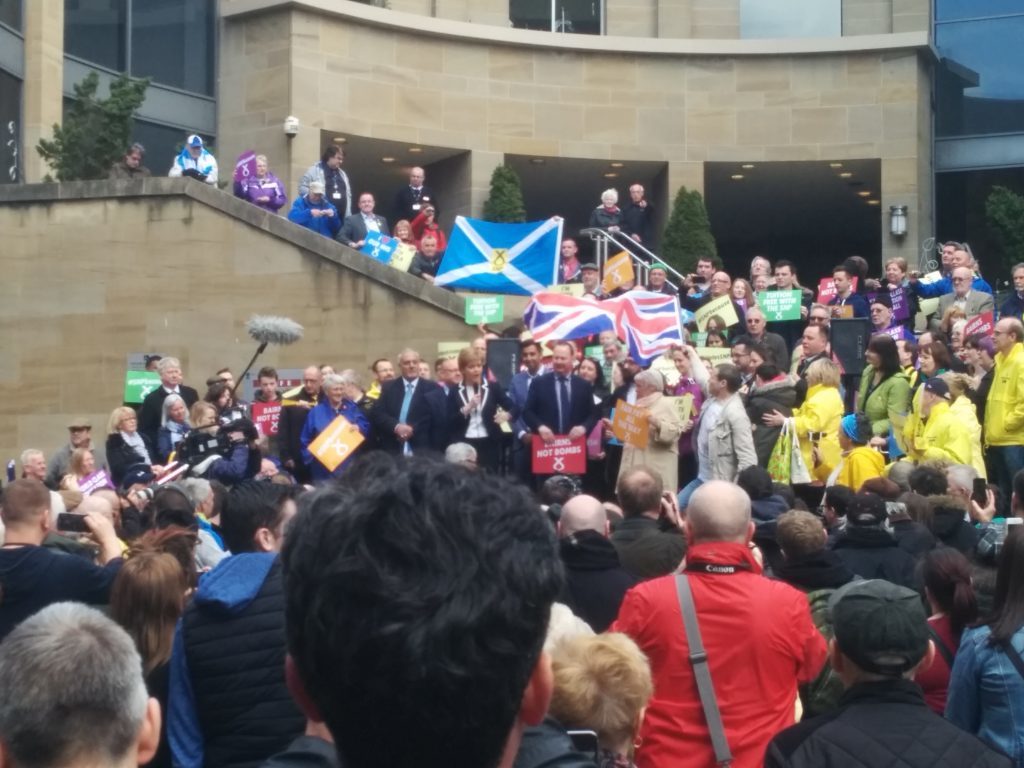 Police escorted a blogger who was barred from Ukip for questioning the Holocaust from an SNP rally after he waved a Union flag in Nicola Sturgeon's face.
Alistair McConnachie, who disputed that Nazis used gas chambers to murder Jews, crashed the makeshift stage of Glasgow's Buchanan Street steps as the First Minister addressed a crowd of around 200 activists.
Boos rang out as he bounded up the steps and thrust his flag out to compete with a Saltire and, after being led away from the scene, Mr McConnachie accused the SNP of pitting Scots "against the English…for the past nine years".
He said: "I'm proud to be British and I don't want to see my country destroyed."
Asked by journalists if he was a Holocaust denier, he replied: "That's not pertinent to the point and is not something I'm going to talk about publicly."
SNP leader Ms Sturgeon, who did not seem to recognise Mr McConnachie, said his appearance showed what a "democratic, vibrant" country Scotland is.
Glasgow-based Mr McConnachie was Ukip's Scottish organiser between 1999 and 2001, and stood five times as a candidate.
The party refused to renew his membership in late 2001, however, because of comments he made about the killing of Jews during the second world war.
In an email to party members, he said: "I don't accept that gas chambers were used to execute Jews for the simple fact there is no direct physical evidence to show that such gas chambers ever existed … There are no photographs or films of execution gas chambers … Alleged eyewitness accounts are revealed as false or highly exaggerated."
During the rally itself, Ms Sturgeon told her supporters not to be complacent about returning an SNP government on Thursday and urged them to make a positive case to elect her as First Minister.
She said: "There is nothing wrong with our country we can't put right."