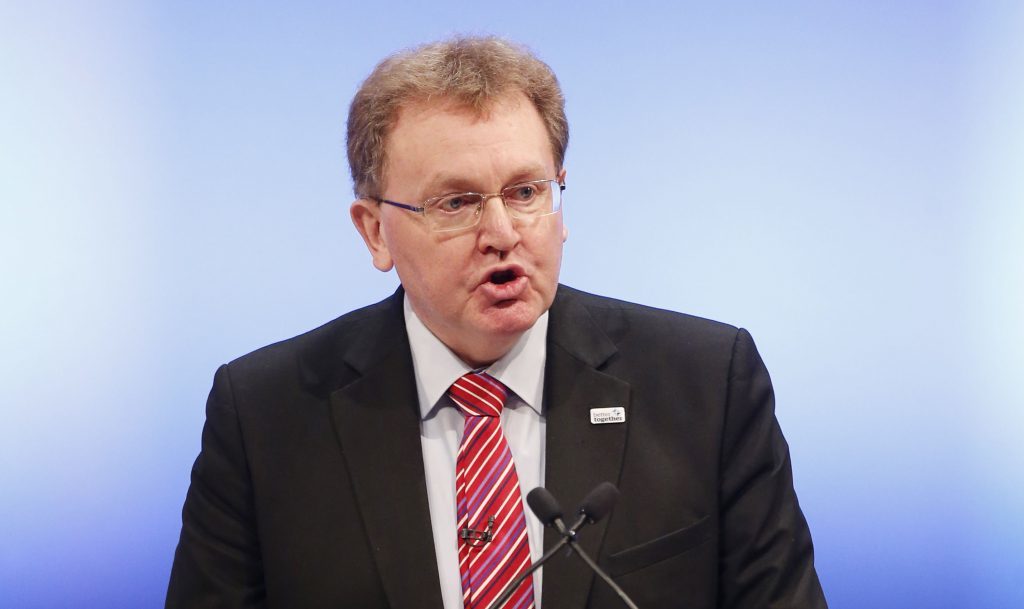 Scottish Secretary David Mundell has urged Nicola Sturgeon to stop talking about a second independence referendum and "get on with governing Scotland".
The SNP leader has pledged to re-launch her independence campaign in the summer to persuade those who voted No in 2014 of her case for leaving the UK.
But Scotland's only Conservative MP said "it's not Nicola Sturgeon's choice whether there will be a second independence referendum" and said she has "no mandate" to hold one.
Mr Mundell urged the re-elected Scottish Government to have a more "collegiate" relationship with the UK Government in the years ahead, in a speech in Edinburgh designed to set the tone for the new session of the Scottish Parliament.
Scottish ministers will be given a bigger role in the UK's international negotiations and UK ministers will be more available to the Scottish Parliament, he said.
The Scottish Secretary also insisted he is open to "continuing dialogue" on the divisive Trade Union Bill, which the Scottish Government has pledged to defy if it is implemented in Scotland.
The UK Government's new "respectful" stance will not extend to accepting a second independence referendum.
"My position is quite clear, and the Prime Minister's position is quite clear, that there is no mandate for a second referendum in the SNP manifesto," he said.
"The votes that many people cast in Scotland's election were votes to ensure that the SNP government did not have a majority and were not in a position to seek to take forward a second referendum.
"If the First Minister is listening to the people of Scotland, then she will stop talking about a second referendum and get on with governing Scotland."
He added: "In relation to the Trade Union Bill, the Scottish Parliament was very clear that the areas covered by the Bill were reserved matters and therefore matters which the UK Government and the UK Parliament were to make the decision.
"But obviously these matters always continue to have potential for ongoing dialogue."
Mr Mundell also confirmed Department for Work and Pension Secretary Stephen Crabb will offer to appear before the successor to Holyrood's Welfare Reform Committee, which his predecessor Iain Duncan Smith repeatedly avoided to the constant consternation of the committee's MSPs.
The Scottish Secretary said: "Stephen Crabb is very keen to engage in dialogue with the Scottish Parliament and is very keen to be available and accessible in Scotland."
The Scottish Government has persistently called for greater representation in international negotiations, particularly in European Union (EU) fishery talks in which it has a major interest.
Mr Mundell said: "We are agreeing a new protocol with the Scottish Government about representation within the EU and broader representation in international circumstances.
"There isn't a time during the previous coalition government or this government where Scottish ministers were excluded from having a role in discussions.
"They have played part of the UK team, plus in the most recent discussions the Scottish Government has actually welcomed the outcome, so I think it's perfectly possible to achieve a collegiate outcome in relation to getting a good result for Scotland in UK fishing discussions."