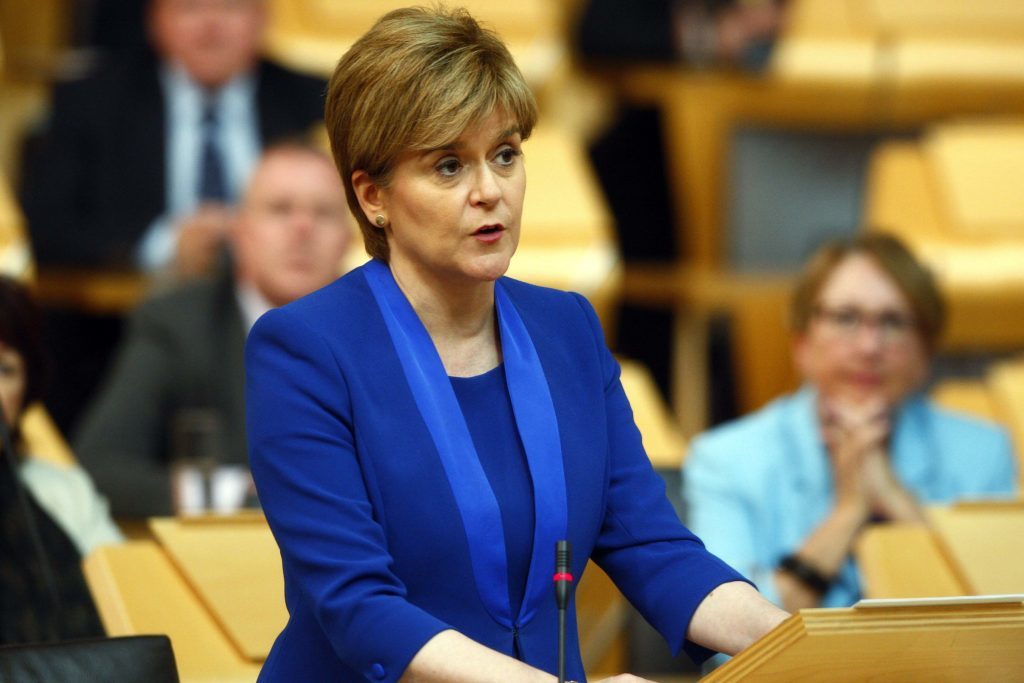 Scotland's deficit has been cut but is now proportionally three times the size of the UK's, official figures show.
The country spent £13.3bn more than it made in revenue in 2016/17, according to Scottish Government figures published on Wednesday.
Nicola Sturgeon said it shows an "improving picture" of Scotland's finances, but conceded "there are still challenges to be overcome" as she aimed to get the deficit down to "sustainable levels".
The deficit is lower than the £14.5bn recorded for Scotland in 2015/16.
It amounts to 8.3% of the Scottish economy's total output, compared with the UK figure of 2.4%.
In 2015/16, the revenue and spending gap was 9.3% in Scotland and 3.8% for the UK as a share of GDP.
The Government Expenditure and Revenue Scotland data is published annually as an estimate of how much public money is spent in Scotland and how much is made in taxes and other revenue, across all levels of government.
The latest figures relate to the time period in which Scotland would have become independent if the public voted Yes in 2014.
Driven by the oil price slump, the deficit has widened in recent years.
But today's Gers statistics show Scotland's North Sea revenues increased to £208m, from £56m in 2015/16.
However, that is significantly down on the £8bn posted in 2011/12.
Speaking while visiting a biomedical start-up in Edinburgh, First Minister Nicola Sturgeon said the numbers represent Scotland's finances "under current constitutional arrangements".
"The lower oil price had an impact on North Sea revenues and the wider economy last year," the SNP leader said.
"However, it is encouraging to see an improvement in the overall fiscal balance and that onshore revenues grew at their fastest rate in nearly 20 years," she added.
Ms Sturgeon said Brexit is the main threat to Scotland's long-term economic success.
Opposition parties said Gers has "exposed the scale of the SNP's deception" when they pointed to oil revenues to say Scotland would be richer under independence.
Murdo Fraser, for the Scottish Conservatives, said the figures confirm "just how wrong the SNP got it during the referendum campaign".
"In 2014, Alex Salmond and Nicola Sturgeon looked Scottish families in the eye and insisted we'd be better off," he added.
"In fact, in the first year of independence, Scotland would have been staring at the biggest deficit in Europe."
Kezia Dugdale, for Scottish Labour, said: "Scotland's own accounts show that the first year of an independent Scotland would have meant unprecedented levels of austerity."