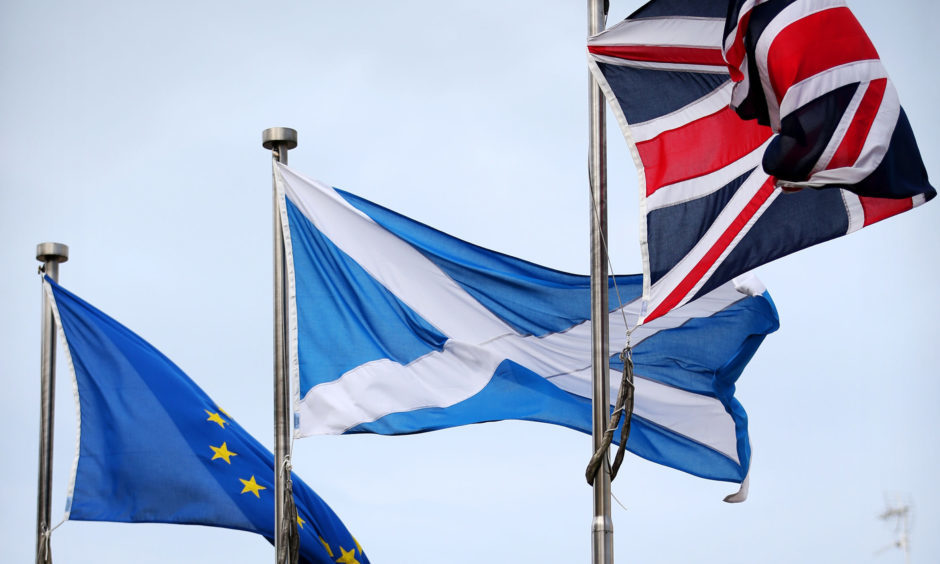 Scotland will continue using the pound for at least a decade after independence under an SNP blueprint proposing major spending cuts in the aftermath of a Yes vote.
The hotly-anticipated report lays bare the challenges of a breakaway, but says the country can supercharge economic growth to increase the annual tax take by £9 billion within a few years.
In the most significant pro-independence publication since the 2014 white paper, the Growth Commission claims Scotland could triple annual GDP growth in 10 years through measures such as tax breaks to attract skilled migrants, encouraging more Scots into work and increasing productivity.
Andrew Wilson, the former SNP MSP and the report's author, said that sticking with the pound in at least the short term would offer "stability and certainty".
"We think the government should be focused on getting the economy growing, setting up the new country, getting the public finances stable and in order from where we inherit them, rather than on setting up a new currency," he told the BBC.
But the SNP plan was slated by independence-supporting tax expert Richard Murphy, a professor of international political economy at London's City University.
He said retaining sterling without having any control over the setting of interest rates and other monetary policies means an independent Scotland would "remain enslaved by the pound and tied to the apron strings of London".
Prof Murphy also blew a hole in the SNP's reliance on independence as a way of escaping Brexit, by saying the currency proposal means "all negative impacts of Brexit will be imported directly into the Scottish economy".
St Andrews professor Andrew Hughes Hallett, who sat on the Growth Commission, suggested it is not a given that Scotland would opt for its own currency.
He told The Courier that after a transition period "then we may make the decision to go to our own currency. Or not, whichever is most advantageous."
The currency plan in the 354-page document said Scottish ministers must only establish a new currency if six tough tests are met, which include having sufficient financial reserves, a credible central bank and if the Scots economy becomes "significantly out of phase" with the UK cycle, the Growth Commission report says.
On the SNP's new currency plan, Scottish Conservative leader Ruth Davidson said: "I'm not entirely sure that is enough for the people of Scotland to want to gamble their mortgage on, their pensions on, their wages on and their future on."
The report, which is largely silent on how or whether an independent Scotland would attempt to get back into the EU, said Scotland would sign up to the euro currency "only if and when such a decision is in the best interests of both Scotland and the EU".
The Scottish Government would complete a comprehensive review of UK spending within two years of a Yes vote, with the aim of saving £1 billion, the analysis adds.
The review would "identify savings from costs that need not be replicated", but would not include defence, which would be reviewed separately.
Opposition parties warn that independence plan is 'austerity on stilts'
The SNP's independence plan would force a decade of "unprecedented austerity" on Scots, say Holyrood's pro-Union parties.
The Scottish Conservatives claim the Nationalists' own sums for reducing the deficit reveal that savings to public services of up to £27 billion would be required over 10 years.
It is proposed by the Growth Commission that Scotland's budget deficit – the difference between public spending and income – is reduced from the 5.9% forecasted at the point of a Yes result to 2.6% a decade later.
Murdo Fraser, the Perthshire-based Tory MSP, said that will lead to massive spending cuts.
"It would be cost felt in every ward, in every classroom and on every street in Scotland. It is austerity on stilts," Mr Fraser said.
Scottish Labour leader Richard Leonard said the SNP is offering "unprecedented austerity".
"This was branded the growth commission but it's really a cuts commission," he said.
"Proposals to cut Scotland's deficit by almost two-thirds over a decade would result in a level of austerity that not even George Osborne attempted."
Meanwhile, the SNP's pro-independence partners in Holyrood criticised the report for focusing on increasing GDP.
Patrick Harvie, co-convener of the Scottish Greens, said it is "disappointing" the Scottish Government has "obsessed about simplistic measures like GDP growth".
Nicola Sturgeon said: "What this report shows is that Scotland is a wealthy nation with huge resources, encompassing our traditional strengths in innovation, our hi-tech sectors, our energy reserves, our food, drink and tourism strengths – and perhaps above all our strength in human capital, with a highly-educated population.
"Despite those enormous strengths, similar-sized nations have performed better over decades – all of them independent but most of them with fewer resources than us.
"The task ahead is to match those other nations, creating more jobs and raising living standards, providing a better future for everyone who lives here."'
Scottish Secretary David Mundell said: "Scotland voted decisively in 2014 to remain part of the UK.
"That decision should be respected. The public do not want another divisive independence referendum."