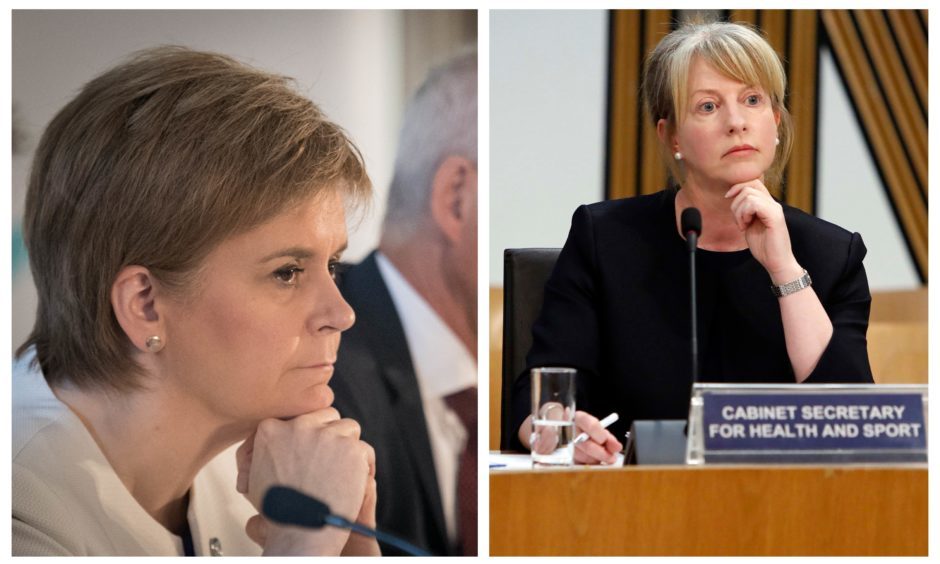 Under-fire minister Shona Robison has quit as Health Secretary as part of Nicola Sturgeon's cabinet reshuffle.
The move was revealed on Tuesday afternoon during the First Minister's two-day  shake-up of her government team.
The Dundee East MSP has been under pressure to stand down for failing to get a grip on the NHS Tayside financial crisis.
Ms Robison has also been heavily criticised for presiding over GP shortages and the slump in waiting times for patients.
In a highly personal resignation letter to the First Minister, said: "I feel that I have reached a point in my life just now where I would be best to step down from a role in Government.
"I have entered a new chapter of my life, including a new relationship, where it would be good to take time to focus on those closes to me, who have too often had to come second place to my job, which has been hard for us all."
Angela Constance, the Communities Secretary, has also resigned from the cabinet, according to the Scottish Government.
In a statement, the Scottish Government said: "Cabinet Secretary for Health and Sport Shona Robison, and Cabinet Secretary for Communities, Social Security and Equalities Angela Constance have written to First Minister Nicola Sturgeon to confirm they are stepping down from their posts.
"The First Minister has paid tribute to their work in government and will announce her new cabinet later this afternoon."
There have been repeated calls from opposition politicians for Ms Robison to quit, which has been driven by the furore around NHS Tayside's finances.
It emerged in March that £5.3 million of money intended for eHealth funding had been used to make the health board's deficit appear better than it really was.
It was then revealed that in 2014 a sum of money from NHS Tayside's charitable endowment fund, reported to be at least £2.71 million, had been used to pay for a new IT system.
A huge chunk of the cash, typically used to fund patient comforts or furnish day suites for families, was used to bankroll digital healthcare after a financial deficit was discovered in NHS Tayside's 2013-14 balance sheet.
The scandal prompted Robison to call for former chairman Professor John Connell to resign, which he did in April. She also said chief executive Lesley McLay, who is now absent from work, was in an "untenable" position.
NHS Tayside later announced it would be repaying the money used.
Criminal proceedings not ruled out over use of donations for general NHS spending
Keith Brown was also removed from his role as economy secretary to focus on his new role as SNP deputy leader. For more on the reshuffle, click here.
New ministers will have to be approved by a parliamentary vote, which is expected to happen on Wednesday.