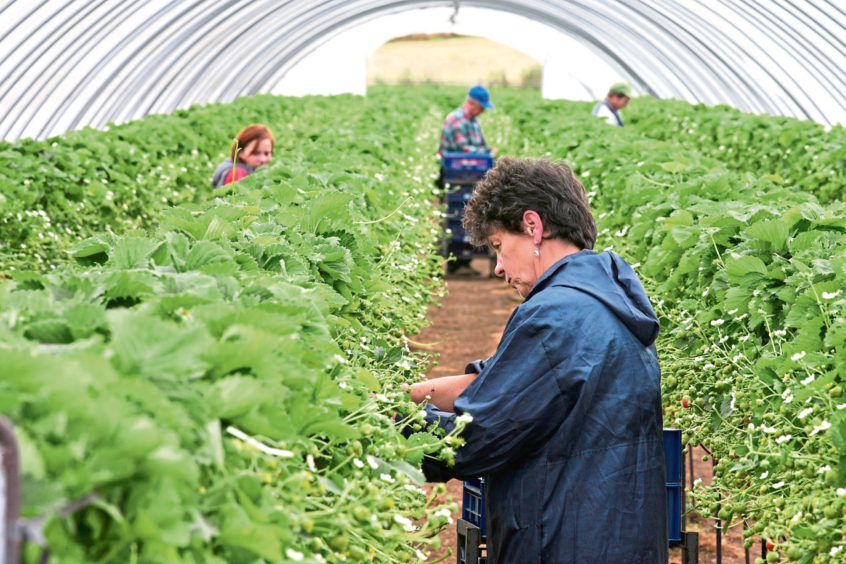 Desperate farmers will be able to bring in workers from outside the EU under a trial migrant scheme expected to be announced this week.
Soft fruit growers from across Tayside and Fife, which is the hub of the £115m Scots industry, have been pleading with ministers to ease the labour crisis with a revival of a seasonal agricultural workers scheme.
The pilot is to last a minimum of two years and provide an annual temporary workforce to British farms of 2,500.
The scheme is expected to be announced by Home Secretary Sajid Javid on Friday.
Perthshire grower Peter Thomson, of Thomas Thomson, welcomed the development, but feared it may be "too little, too late".
"There is something like 100,000 seasonal workers needed in horticulture – that's not a very big answer to the problem," he added.
Kirstene Hair, the Angus MP, said the trial is a "positive step in the right direction and one I have been long calling for".
"The pilot will go some way to addressing some of the current shortfall in labour and will be welcomed by the agricultural industry, especially in my constituency of Angus," the Scottish Tory added.
"However it will need to be adopted fully if labour demand is to be met."
Growers in Courier Country, who have seen profits slashed, report that tonnes of fruit has been wasted because they have not had enough people to pick it.
They have slammed the UK Government for risking one of Scotland's success stories by stalling over the return of SAWS, which allowed foreign nationals to come here to work for fixed periods.
It was abandoned in 2013 when farmers were able to recruit from new EU members Bulgaria and Romania.
The number of EU workers available has dried up since then as economies in Eastern Europe improve and rivals on the continent provide better incentives.
Industry bosses have blamed anti-foreigner sentiment associated with Brexit for putting people off wanting to come here, while the number of locals willing to do the job has shrunk year-on-year.
The Courier understands the trial will allow fruit and vegetable farmers to employ migrant workers for a maximum of six months before they must return to their own country.
A UK Government official said the pilot would help in the "short term" during peak production periods, but called on farmers to pursue harvesting technology to reduce the demand on physical labour.
It is not yet known which non-EU countries are involved in the pilot.