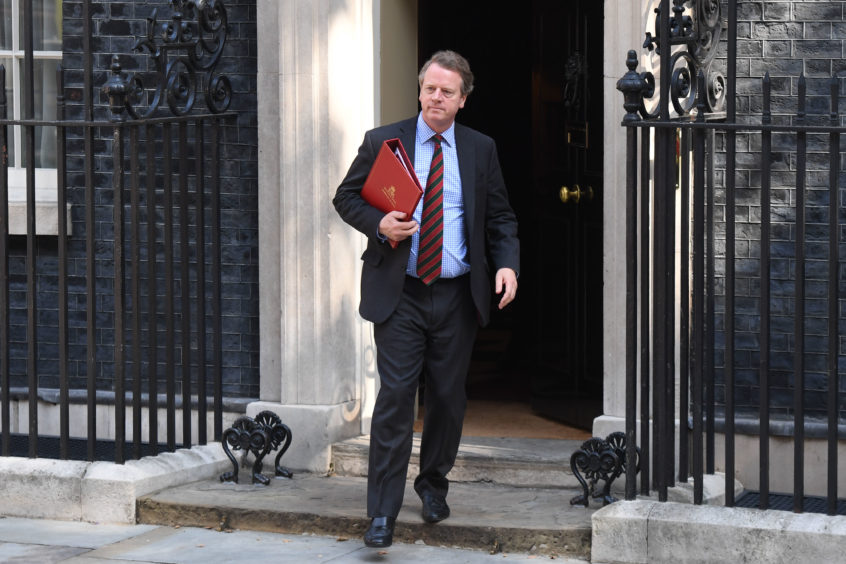 Sacked Scottish secretary David Mundell has insisted he could have worked with new Prime Minister Boris Johnson — and ruled out blocking a no-deal Brexit.
Mr Mundell, who is the Scottish Conservatives' longest serving MP, was dismissed from his position as the Secretary of State for Scotland during Mr Johnson's reshuffle on Wednesday night.
More than half of Theresa May's cabinet ministers were sacked or resigned hours after the new PM came to power.
Mr Mundell had said before Mr Johnson was named Conservative leader and invited to form a government that he would have found it "difficult" to serve in his cabinet.
Speaking after his dismissal, Mr Mundell, who voted to remain part of the EU in 2016 and three times voted in favour of Mrs May's Withdrawal Bill, refused to rule out support for leaving the EU without a deal come Halloween.
He told BBC Radio Scotland's Good Morning Scotland programme: "My view was Mr Johnson had been duly elected the leader, I was willing to serve because I think we are at a critical time, with the need to secure Brexit.
"I'm not going to apologise for being willing to compromise, being willing to work with other people even though I have reservations about them. I have never been a cheerleader for Mr Johnson, I think people know that.
"But yes I would have been willing to work with him to secure Scotland's place in the union and to deliver Brexit."
Newly appointed Scotland Secretary Alister Jack MP said he would be "Scotland's man in Whitehall and cabinet" but agreed the UK could leave without a deal on October 31, despite "dire warnings" from financial and construction industries.
Mr Jack, who serves the Dumfries and Galloway constituency, was elected to Westminster in 2017 at the snap election.
He sits as a director for a number of companies and has an income from three estates, including a salmon fishery.
Mr Jack also has shares in a number of Christmas tree companies and is registered as a director of insurance underwriters Cantco Ltd.
He told the BBC: "I will be Scotland's man in Boris Johnson's cabinet. My position is to represent Scotland at Whitehall and in the cabinet.
"I've always taken the view Brexit was a UK position. Part of keeping it together is not to take the view how Scotland voted or how Wales voted.
"There has been many analysis done and many predictions which did not happen.
"There will be bumps along the way there will be great opportunity for our nation on the other side. We could do great deals elsewhere.
"As the fifth strongest economy in the world we can do great things. My position is that we will hold no deal on the table.
"I've always found in business if all the options are still on the table you get things done. If we have to leave without a deal and I feel we have prepared for that then we will.
SNP Scotland Office spokesperson Tommy Sheppard MP said: "The Tory Scottish Secretary is completely out of touch, and even more detached from the people of Scotland than his predecessor.
"Scotland voted to remain in the EU but we are now being represented by Westminster's man in Scotland – a multimillionaire, landowning, Tory Brexiteer who is willing to impose a devastating no-deal against our will.
"This is the ultimate humiliation for Ruth Davidson, whose protests have been ignored and influence has been decimated.
"While David Mundell was turfed out by Boris Johnson because he wasn't seen to be on board with a damaging no-deal Brexit, the new Secretary of State has historically been at pains to prove his credentials as a no-deal Brexiteer.
"The people of Scotland voted overwhelmingly to remain in the EU in 2016 and that vote must be respected. A disastrous no-deal Brexit could cost Scotland 100,000 jobs and hit every person in Scotland to the tune of £2,300 per year.
"It's no wonder that support for independence is growing and a majority in Scotland want a fresh referendum.
"People in Scotland deserve the choice of a better future than the Brexit Britain disaster being imposed on us by Westminster. It's clearer than ever that the only way to properly protect Scotland's interests is by becoming an equal and independent European country."