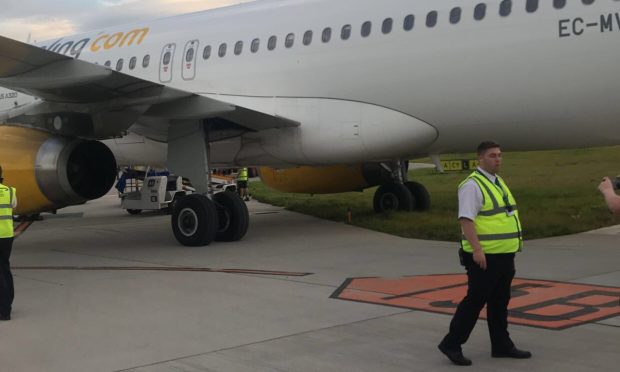 A Dundee man has described the moment the plane in which he was travelling veered off the taxi-way at Edinburgh Airport after a hard landing caused the wheel to buckle.
Lewis Finan and his friends were returning on the 6.40pm Vueling Airlines flight from Barcelona on Wednesday night.
Fire crews rushed to the tarmac to ensure the safety of passengers, who were left unaware of the damage until disembarking.
Lewis, 22, was returning from the annual Benicassim music festival with five friends, and said he was initially oblivious to the serious nature of the incident.
The apprentice electrical mechanical engineer at DC Thomson, said: "It was a bit of a bump on the way down but I don't think anyone realised that we'd gone off the taxi-way.
"I looked out the window and saw around three fire engines with their lights flashing surrounding the plane.
"Obviously the pilot had lost control and veered off on to the grass. It felt like the plane landed hard and then rose up again before coming back down.
"Nobody really knew what had happened but he had slammed on the brakes pretty hard."
Images show the damaged wheel with part of the plane positioned awkwardly on the grass verge.
Lewis said: "There's no way they could move the plane because of the condition of the wheel.
"It had buckled from the impact and staff weren't too happy about passengers taking pictures.
"Engineers appeared quite quickly to change the wheel so they could move it. The plane was actually tilted a couple of degrees to the side once it stopped."
He said the incident did not worry any of the group at the time.
"None of us are really scared of flying so we weren't shaken up," he said.
"I tend to trust the statistics on flying which show it's usually very safe. I'm pretty sure pilots know what they're doing.
"We only had to wait around 20 to 30 minutes to get off but the plane was still sitting half on the grass when we left."
A spokesman for Edinburgh Airport said: "The aircraft mounted a small portion of the grass verge as it approached its stand and teams responded quickly.
"There was no impact to the airports operations and the situation was resolved swiftly."
Vueling did not respond to a request for comment.