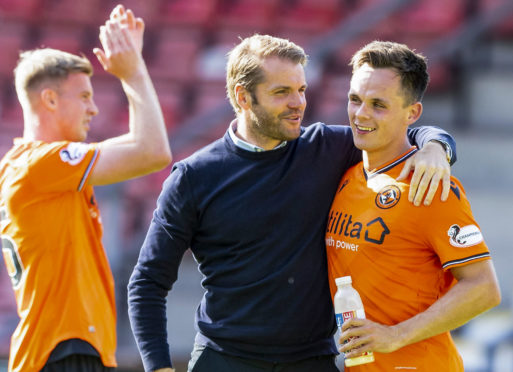 It's the first Dundee city derby of the season and Eric Nicolson, Ian Roache and Neil Robertson assess the two teams' form going into Friday night's match and where it will be won and lost.
One won and one drew going into Friday night's Dundee derby. Does that matter or are you one of the 'form book goes out of the window' gang?
IR: It's not a binary choice for me. I do think form is important because it gives players confidence and belief going into the next game. However, I have covered more derbies than I care to count and there have been a few where the team that has had the momentum loses it and the team perceived to be the weaker going into the game plays out of their skin and wins. United do look to be in great shape and were excellent at Dunfermline but Dundee haven't lost a game in 90 minutes all season. It will be tight.
NR: The first goal is always important in any game but even more so in this one. If United do edge ahead, then with the way their season has begun, I can see them going on to win. However, if Dundee can get their noses in front, then that form book could go flying out of the window.
EN: Form does matter but Dundee's has been pretty good in general. Saturday's draw with Caley Thistle was certainly no disaster. United would have been favourites even if there were two 100% records on the line and that hasn't changed.
Kane Hemmings was dismissive of the idea that a United win and a seven-point gap would be a big deal at this stage of the season. Is he right?
IR: He would say that wouldn't he? Interestingly, there has been a fair bit of talk at Tannadice recently about how hard it is to chase leaders in the Championship, as they had to last season as Ross County kept themselves out in front. What it would do is make Dundee vulnerable to anxiety should they lose games over the coming weeks. There would be worrying glances at the table. However, it might work the other way and it might be United looking over their shoulders and just a point ahead of their neighbours come the final whistle.
NR: I could see what Hemmings was getting at as he spoke to the press after the Inverness game. He responded to the question with a quizzical look and then pointed out there are still 33 games left of the Championship campaign. However, the last thing Dundee want having come down from the Premiership is to be playing catch-up even at this early stage of the season.
EN: It's shaping up to be a two-horse title race. Think of other ones like Rangers-Celtic or Liverpool-Man City. If a seven-point gap opened up in of those head-to-heads after just four games you would have plenty of people thinking it wouldn't be closed. The same applies to United and Dundee.
What isn't clicking for Dundee just now?
IR: After a 0-0 draw, it's obvious to say they need more goals but I feel they have the players to get going in attack eventually. I like the look of Danny Johnson – not just when he is taking penalties – and Hemmings is a quality striker who maybe just needs more game time. I imagine Hemmings will be desperate to start against United.
NR: Dundee boss James McPake admitted that his team are still trying to find a level of consistency in their performances, something not helped, as he candidly acknowledged, by the fact that he has changed players and formation as he tries to find the best blend. The manager certainly has some big decisions to make against United.
EN: I think it's a simple case of McPake finding out his best team, which was always going to be the case after a relegation clear-out. United are taking advantage of a rare settled summer.
Which match-up are you most looking forward to?
IR: I'll leave Lawrence Shankland to others and suggest that Paul McMullan v Jordan Marshall up United's right flank will be a key contest. Dundee will have had the Tangerines watched at East End Park and the report will mention McMullan, who had a fine match and was involved in both goals, setting up the second with a superb cross.
NR: I have a feeling McPake will go with one up top which will probably mean a return to the midfield that played against Aberdeen – Jamie Ness, Shaun Byrne and Finlay Robertson. If those three can dominate the middle of the park, where United usually go with a duo of Calum Butcher and Sam Stanton, then United could have problems.
EN: I'm intrigued to see how Robertson gets on. The biggest compliment you can give the 16-year-old is that he has made it look like he's got all the time in the world on the ball so far. If he does that in a fast and furious derby against Butcher then Dundee have a great chance and the Robertson hype will go through the roof.
Is a draw a good result for Dundee and is a draw a good result for United?
IR: It depends on the ebb and flow of play on the night. It might be that both managers will feel a draw is a fair result. However, a stalemate will keep the Dens men four points behind their rivals so I think – just by a fraction – a draw would suit United more than Dundee.
NR: United are at a more advanced stage than Dundee at the moment with McPake having overseen a major rebuilding job during the summer so a draw would undoubtedly be a good result for the Dark Blues.
EN: Dundee's need to get something is greater than United's.
There was a bit of talk over the weekend (not from his manager) about Lawrence Shankland getting a Scotland call-up. Can you see why?
IR: No, he needs to walk for United before he can run for Scotland. Give the guy a break. Neilson was quite correct subsequently to play such talk down.
NR: He is Scottish and is scoring for fun so it is easy for some to make the national call-up link. However, it is still far too early for that.
EN: Maybe not at the moment but if he's still rattling them in by the time Euro qualifying is over, why not have a look at him. Put it this way, do you think he's a better striker than Mark McNulty, who has been capped? I do.
Arbroath won't be doing a Brechin, then?!
IR: That 1-0 win at Alloa was one of the results of the weekend. Arbroath have sent out a message that they will not be the soft touch of the Championship. I don't think teams would be treating them lightly anyway but they will be guaranteed respect going forward.
NR: After a draw and a narrow defeat in their first two games, Dick Campbell's men showed they have fully found their feet in the Championship with that win at Alloa. With the greatest of respect to Brechin, the Red Lichties were never going to suffer the same fate as their Angus rivals and they and their manager will already be relishing the visit of Dunfermline to Gayfield on Saturday.
EN: If Arbroath win on Saturday they could go above Dundee and even be second in the league. And that's before a Gayfield winter kicks in!
Is it a case of panic over at McDiarmid Park?
IR: While I hope that's the case it was a bit of a pity that a strong display and fine draw at Hibs was followed by news of the Richard Foster "incident." The most important thing, though, is that Saints do appear to have settled down a bit on the park and were the better team at Easter Road by all accounts.
NR: I'm not sure Tommy Wright was ever panicking but the result and the manner in which it was achieved at Easter Road certainly helped dispel the black cloud the manager admitted had hovered over the club recently. Normal service will definitely be resumed if Saints can secure their first league win of the season when they play Kilmarnock on Saturday.
EN: It was certainly nice to be reminded that there are a few very good players in that Saints team.
Are you expecting a busy week of ins and outs in Perth?
IR: I would predict that Stevie May will back before the transfer window closes and that will cheer the fans up no end.
NR: The May deal should be done but there will probably have to be a few outs before there are further ins.
EN: Yes. I'm going to predict three in and three out.
Brechin got a win at last under caretaker Stevie Campbell. Who would your choice be for the next manager?
IR: Campbell is in the driving seat and caretakers make it extremely tough for boards to overlook them if the team keeps winning but the word is that Campbell sees his role as a temporary one.
NR: I am not sure Campbell would want the job on a permanent basis. I keep hearing former Dumbarton boss Stephen Aitken is one of the favourites for the post. One thing is certain, it is an appointment Brechin cannot afford to get wrong.
EN: Aitken would be a fantastic appointment, that's for sure. He has said that he would need to be convinced about the club's ambition so if he does come to Angus it will be a big statement that the Glebe Park committee have got their sights set on going back up through the leagues rather than mere SPFL survival.