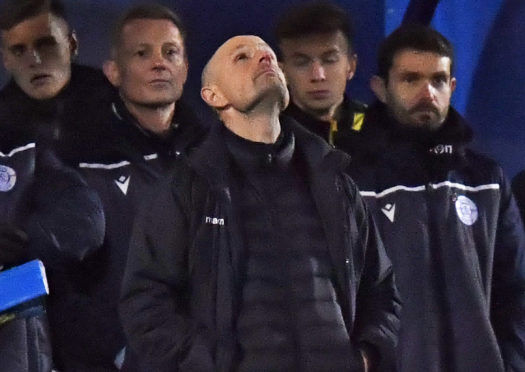 Dundee United have become a journalist's dream.
With an online report to be filed as near to the final whistle as you can manage on a Saturday afternoon, the prospect of a last minute rewrite haunts every football reporter.
Once it was short-hand notes being ripped up and chucked on the floor as a copy-taker you had waiting on a phoneline was told she wouldn't be required for another 10 minutes (if you were lucky) and now it is a finger hovering over the delete button on a lap-top.
A one-goal game is the most precarious balancing act for obvious reasons – start too early and you risk it all going to waste.
With United in this form though, you don't need to worry.
The Palmerston crowd were making their frustrations clear about the second half disruptions in play after Mark Connolly's goal and the general lack of flow to the game, as were the Queens' management, but this was another case of Robbie Neilson's men sucking the life out of a contest that should have been dangerous.
Apart from Benjamin Siegrist coming for a cross he was never going to get to, there wasn't anything approaching a nail-biting moment for the travelling fans to endure.
And that has become the norm.
It shouldn't be taken for granted, however.
United are now a points-winning machine whatever the line-up because they are excellently coached.
Three players who have barely started this season were dropped into the line-up and three, possibly four, key men weren't in it. And the player who links it all together, Calum Butcher, had to go off with half-an-hour left.
For Stephen Dobbie (or anybody else in blue and white) to not get a proper chance in those 30 minutes when an onslaught could have been expected is a huge compliment to the coaching staff.
Nobody gets dragged out of position and gaps don't appear. The longer the game goes on, the sharper focus becomes.
That the latest United have conceded a goal that has affected a result is the 50th minute (the recent 1-1 draw with Dundee) is an astonishing statistic, as is the fact that the latest they have conceded any goal is the 77th minute (the fourth in the 4-0 defeat to Queens).
Reliability at the end of games is yet another mark of these runaway champions.