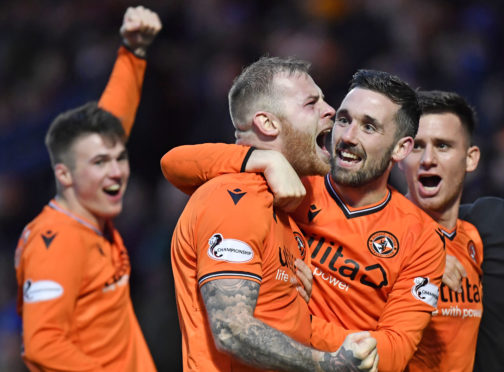 A 17-point lead in the league tells you all you need to know about the standards set at Dundee United this season.
But Mark Connolly stressed that doesn't mean the Tangerines will allow themselves to slip into a comfort zone – the proof being their post-match reflections on a creditable performance and result against Hibs in the Scottish Cup.
"I watched the Hibs game back," said the Irishman.
"During it, you feel comfortable enough but having now watched it I thought at times we were sloppy on the ball.
"We could have kept it a wee bit better.
"They are a team who've just come from a three-week break and they're a very good team.
"I would say they're a top-six team so I thought we did well.
"But the biggest thing I take from it, though, is that we can do a lot better which is a big thing for us as a team. For me, that's a positive.
"Don't get me wrong, we're happy that we're still in the cup and still have a chance to get to the next round. We've been speaking about it as we're a close-knit team and we're looking forward to the replay at their place."
Were United guilty of showing Hibs too much respect?
"I think it was more a case of trying to get to grips with them," said Connolly.
"We thought they were going to play a certain way but they changed it. They were getting a little bit of joy out wide.
"At times, we did get to grips with it and other times we didn't. It was a good test for the boys to see where we are right now.
"As a whole, it feels as though the club is on the way up given where we've been in recent seasons."
You won't find anyone at Tannadice speaking yet about playing in the Premiership next season but that doesn't stop them comparing and contrasting opposition from their current league and the one everybody expects them to be competing in next term.
"The biggest thing was the intensity," said Connolly.
"You're so used to playing in the Championship which is no disrespect to any of the other clubs. You're just used to playing at that level.
"But it's a bit of a jump when a bigger club like Hibs comes to Tannadice with better players.
"You're constantly having to switch on. You can sometimes switch off in the Championship, but the higher you go you just can't.
"I've played in the Premiership before and have come up against some good teams. So it's a case of trying to get back to that level and doing it week-in week-out.
"You want to be playing at that level and I think we showed that we can do it."
It's Morton up next this afternoon before thoughts turn to Hibs again on Tuesday night.
"It's right back into league business now," said Connolly.
"Morton is going to be a tough game. We've got to be ready for that.
"As we know, the league is the priority and we're quite a few points ahead.
"We want to make sure we keep that going and keep pushing on.
"Saturday is massive for us and then the replay on Tuesday will sort itself out."
He added: "We want to win every game at Tannadice. Teams will want to beat us at home and end our record.
"Saturday is a tricky one but we're looking forward to it.
"All we can do in our league is focus on ourselves and we've done that well so far this season."
United's recruitment strategy in the last three transfer windows has been clear as far as Connolly is concerned.
He said: "The way the club has been signing players for the past year suggests it's going towards the Premiership route.
"When I signed for the club last January along with the other guys, we weren't really signing to be in the Championship.
"People think now we're so many points ahead that we're signing players for the Premiership, but we've been doing that for a while.
"Some boys have left like Sam Stanton – who is going to America – but generally the recruitment of late has been geared towards the Premiership.
"It's been like that since the new owners came in. It's been gradual rather than drastic.
"If we do go up, I think we're ready to try and challenge in the top league."