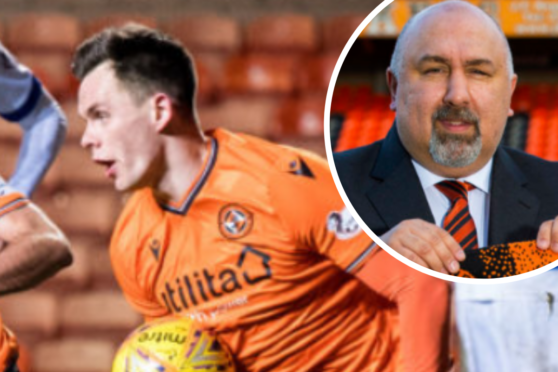 Nearly as many scouts were at the first Dundee United v Hibs Scottish Cup tie as Lawrence Shankland has goals to his name this season, Tony Asghar has revealed.
But the Tangerines' sporting director is confident that his star man – and the other Tangerines players attracting admirers – will still be at Tannadice once the January transfer window shuts.
"There have been no bids," Asghar told Courier Sport. "People have contacted me, asked questions and noted interest.
"I don't foresee us having any bids to discuss this week.
"For these types of deals you would be in dialogue. If somebody comes in after the Hibs game and we can't replace him, why would we do that?
"We speak to the scouts and give them all the information they need. We want relationships with these clubs.
"We said at the start that ultimately this will be a selling club. We're going to try and develop players, sell them and bring the next one through.
"There have been two clubs from Spain over. Word is spreading. Our young players are attractive and the Scottish market is attractive."
Asghar added: "We had 22 scouts at the game last Sunday.
"I speak to Lawrence's agent regularly. He's very open and transparent about where he wants Lawrence to go, and so are we. There's nothing hidden. The boy is better than Dundee United, no doubt.
"Wherever he goes at some point, they will get a very rounded boy.
"Charlie Adam and James McFadden went to two of the biggest clubs in England – Liverpool and Everton. With his attitude and ability, that's the level I put Shankland at.
"If a bid comes in during the summer that fits him and fits the club then we'll look at it."
No club can claim every signing to be a success but Asghar has certainly had more hits than misses since he came to United as part of the new Mark Ogren-led regime.
The American duo of Ian Harkes and Dillon Powers would be among them.
And they may yet find themselves making trips back to the States to play for their country.
"I've been speaking to Brian McBride (the new men's USA national team GM), who is taking an interest in Ian and Dillon," said Asghar.
"These players were in their system and are now back on the radar because they're playing regularly with us.
"We'll benefit these players and hopefully the US national team will get the benefit as well by them playing over here.
"The marketplace for me just now is looking at US players with passports because the designated players in the MLS will always get game-time.
"Dillon has got an Italian passport and Harkesy was born here. And what we're finding out is that there are a lot of American players born in Germany.
"Robbie (Neilson) and I had a conversation about it the other day. Americans settle in well because of the language and they have a good background with the college system. It gives them a real competitive edge. They are winners.
"They're top boys – both our ones have settled very well."
Adrian Sporle has taken longer to acclimatise to Scotland and Scottish football but Asghar isn't worried that the Argentinian's United career has turned out to be a slower burn than the American duo's.
He explained: "I wouldn't call it a mistake but we have to understand that there will be a six-month adjustment period coming here, learning the language and the culture.
"Now Adrian's an integral part of the team. You saw how delighted the players were when he scored against Thistle.
"It's an avenue we'll explore again.
"And there are other markets – we look at Croatia, France and Belgium – as well as Britain, of course."
United's accounts for the last financial year showed a wage bill higher than turnover, which was a short-term necessity according to Asghar, not a long-term strategy.
"It's not going to be spend, spend, spend to get us where we want to be," he said. "A business can't run like that.
"Everything is within our plan and over the next two or three years we will be maximising our income.
"They (the Ogren family) are delighted with how things are going."
Matching Hibs, a top six Premiership side, in the first cup tie was validation of Asghar's squad-building and Neilson's coaching. Win or lose tonight, the rise of their opponents is something United will be looking to replicate when promotion to the league above is secured.
"Hibs and Hearts were two of the clubs we looked at when we came in," said Asghar. "We've looked at how they got out of the Championship and competed for trophies.
"They're the benchmark we need to get to."