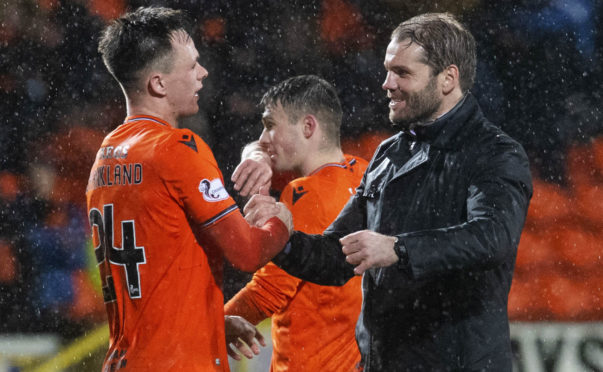 In this week's Talking Football, Ian Roache and Sean Hamilton say it's job done for Dundee United, ponder the downbeat words of St Johnstone chairman Steve Brown and assess Dundee's chances of making it three wins in a row when Arbroath come calling.
Is it safe for Dundee United fans to start cracking open the champagne now?
IR: Yes. After the traumas of the last few years I admit that I, too, have been holding back but it's game over now. The 2-1 win over Inverness Caley Thistle last Friday will be the one result we look back on and say that was when the title was signed and sealed. Robbie Neilson and his players will stay tight-lipped in public but they also know that promotion is theirs. They are uncatchable.
SH: Ian just nailed it. At 21 points clear, United are home and hosed. It would take an unprecedented collapse from Neilson's men to allow anyone to catch them. I can't see that happening. In fact, I reckon that win over Inverness on Friday night could be the springboard for a magical run-in. The pressure is off and United have players who will relish that.
Inverness manager John Robertson praised the quality of United's two finishes. They were a couple of crackers, weren't they?
IR: The composure shown by both Louis Appere and Lawrence Shankland to give themselves the chance to shoot was tremendous. I love seeing such fancy footwork in pressure situations like that. I would also give a big shout out to Rakish Bingham, who supplied excellent assists for both goals.
SH: We've seen that sort of composure from Shankland all season; that patience, that willingness to let defenders commit before shifting into space, that finishing ability. To see it from Appere, too, must fill United's fans and coaching staff with joy. Shankland has nothing left to prove at this level. Appere is well on the way to proving himself worthy too.
Was United's result all the more commendable considering how well Caley Thistle played?
IR: Absolutely. That was, by a country mile, the best the Highlanders have performed against the Tangerines this season. For a long time, you didn't know how the game was going to go. They did help United by being quite open but they didn't really have a choice because they had to win the match to have even a miniscule chance of catching United. Now it's all about the play-offs and I expect Dundee and ICT to battle it out for second, with the Dark Blues just edging it.
SH: I was impressed with Robertson's side. They lost their starting centre-half pairing of Coll Donaldson and Jamie McCart in January, which could easily have been devastating. Instead, it has galvanised them. They've knocked Livingston out of the Scottish Cup and reached the chocolate biscuit cup final since the transfer window closed. There's no shame in a narrow defeat to United.
While we are mentioning Inverness, are you relieved that James Keatings should now be able to play in the Tunnock's Caramel Wafer Challenge Cup final?
IR: Yes, the whole thing was a farce. A rethink from the SFA was embarrassing but welcome. Let's face it, when even the likes of Gary Lineker are piling in to highlight how ridiculous the thing is then you are on a loser. I would also mention the brilliant statement penned by ICT official Scot Gardiner, formerly of Dundee, that got the ball rolling.
SH: Can you imagine if the re-examination of Keatings' case turns up the same result as before? Then we really will be through the looking glass. Look, there's no two ways about it, the SFA have made a mess of this. They're pointing the finger at a member of the disciplinary panel for failing to follow protocols, which is all well and good, but it begs the question – how many other teams have been on the wrong end of similar derelictions of duty?
Talking about strange goings-on, what do you make of the interview St Johnstone chairman Steve Brown gave? A bit negative to say the least?
IR: While it is usually good to hear from club chairmen, I felt this was an unnecessary distraction from what should have been a super Sunday for Saints. The players performed brilliantly to draw 2-2 with Rangers and manager Tommy Wright's tactics were also top notch. We should have been talking about the football instead of matters off the pitch.
SH: It was utterly disheartening. The timing was appalling, the message was negative and the impression it gave was grim. So let's call it what it was – a PR disaster. Steve Brown is clearly a very successful businessman but he also sounds like a man who's thoroughly scunnered with being chairman of St Johnstone.
OK, we will chat about on-field matters. The Perth men deserve enormous praise for transforming their season, do they not?
IR: They certainly do. That is now just two defeats in 15 games and one of those was to all-conquering Celtic, who of course come calling this weekend. Saints under Wright always make me confident that they can get over any difficulties and they have done it again. It was a pleasure to cover that game and they definitely deserved the draw.
SH: Saints' on-field turnaround since the end of November has been magnificent. They conceded 33 goals in their first 14 games to leave them bottom of the Premiership. Since December, it's only 13 in 13, and they're within a whisker of the top six. Wright, his staff and his players deserve a huge amount of credit for that.
Dundee have now won back to back games with consecutive clean sheets so is Ian right about his "best of the rest" prediction?
IR: Of course, I am. Err, well, maybe. Listen, that 1-0 win over Queen of the South was a terrific result at a tough venue and the feelgood factor is coming back to Dens. I think you can see the togetherness in the squad and you even had Kane Hemmings coming out of his sick bed to play. I am upbeat about the remainder of the season.
SH: Looking at the Championship as it stands, Dundee will see themselves as the natural "best of the rest" candidate – but they have to prove it. They've built a wee bit of momentum in recent weeks and that ought to prove useful. But Arbroath are no joke – as United learned not so long ago.
As Sean mentioned, Arbroath won on their last visit to the city of Dundee. Can they do it again at Dens on Saturday?
IR: They are certainly capable of doing it again and it will be a fascinating fixture. I just think Dundee are back in decent shape and will win this one.
SH: You write this Arbroath side off at your peril, I think. Dick Campbell and his staff built a winning culture at the club last season and it has served them well in the Championship. Guys like Bobby Linn and Craig Wighton make them very dangerous.
Who will get the louder round of applause from the home crowd: the Dundee team or Wighton?
IR: Ah, I see what you did there. Wighton is obviously a Dundee hero for scoring a certain goal against United and I'm sure he will be cheered on to the pitch. Once the action starts, though, the Dens faithful will be hoping he has a shocker.
SH: You jest about the applause, but actually, Dundee fans don't forget their heroes, and I reckon he'll even get a ripple if he scores against the Dark Blues – as long as he doesn't celebrate!