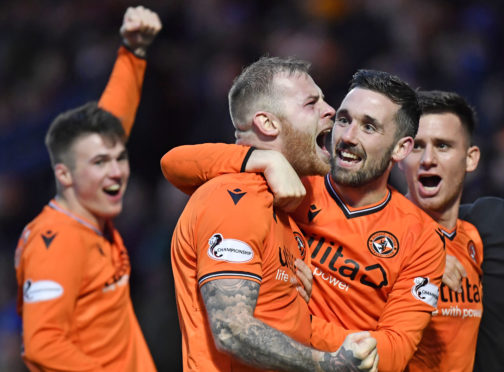 Helping Dundee United fight for promotion has meant Mark Connolly hasn't enjoyed as much family time as he'd have liked this season.
The Irish defender had been a key figure for United as they opened up a 14-point gap at the top of Championship prior to the coronavirus outbreak.
However, with global crisis putting any potential title party on hold for now, the 28-year-old centre-back has been using his isolation to focus on the positives in his life.
And he needn't look any further than wife Rosa, daughter Ora (4) and son Rohan (1).
More quality time spent with his young family in the past fortnight has been a godsend for Connolly and has meant he has been able to enjoy special moments like witnessing his son's first steps.
"It was five days ago he started walking and now he is into everything," he said.
"If it hadn't been for this lockdown I probably would have missed it because I would have been training or away at a game or something like that.
"So that has been a real positive for me."
Connolly admits, though, that parenting in a pandemic is as difficult as it sounds.
"It is very difficult because we can't get the kids outside that much," he added.
"They are up at 6am every morning and then going to their bed about 7 or 8pm.
"We have been trying to get them into a routine.
"The kids are doing the Joe Wicks exercise stuff and after that my wife has been getting my daughter to do some drawing and to work on her ABCs now she is off nursery.
"We've got a garden with a trampoline and bikes but it is also still quite cold.
"We both also take one of the kids out for a walk to get them out and about.
"It has been amazing being around the kids all the time but I think my wife is getting to the point where she wants me back to work!"
When Simon Murray left for another continent, he never envisaged returning to see Dundee United, Dundee and Arbroath fighting for same prize
Across the Irish Sea, in the small town of Clones in County Monaghan, dad Martin, mum Angela and sister Michelle are also keeping in touch with the Connolly clan on Scottish shores.
Although concerned for their wellbeing, Connolly says their distance is simply business as usual.
"I have been Facetiming my family back home in Ireland every day to see how they are keeping," he added.
"My mum and dad are a wee bit older and it is a wee bit more dangerous for them, but the people back across in Ireland have been brilliant with the way they have dealt with the situation.
"They have been doing it for a little longer than us.
"It is a little bit of a concern that you can't see them although I wouldn't see them that much any way during the season because of my club commitments.
"My sister stays at home with my mum and dad and she is looking after them and they are all good."
I'd have no complaints if Dundee United were handed Championship title, says St Mirren boss Jim Goodwin