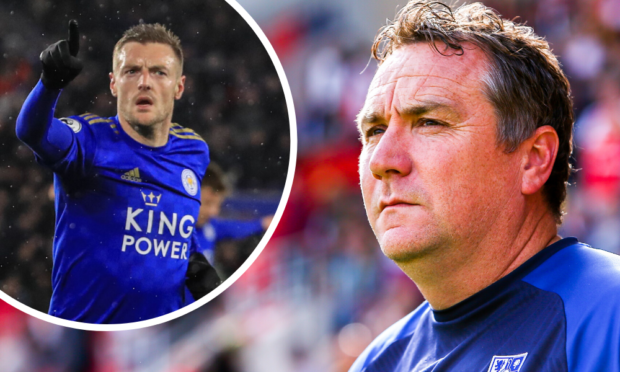 As Leicester legend Jamie Vardy reached a century of English Premier League goals, the man who gave him his break in the professional ranks was about to strike the biggest deal of his career.
Micky Mellon, expected to be named Dundee United's new boss in the coming days, was in the Fleetwood hot seat in 2011 when they paid £150,000 to sign the future England international from Halifax Town.
While Vardy was putting Crystal Palace to the sword with a double on Saturday, taking his top-flight tally to 101, Mellon was waiting for the Tangerines and Tranmere Rovers to reach an agreement for him to return to Scotland after three decades away from home.
The Paisley-born coach, 48, has always adopted a modest approach to discussions about his own role in Vardy's astonishing rise.
In a 2015 Sunday Mail interview, Mellon – who appeared for a host of clubs down south during his playing career including Blackpool, Burnley and Rovers – insisted: "I don't want to come across as someone jumping on the Jamie Vardy bandwagon."
Since their days at Fleetwood, the Foxes No9 has won the title, starred in the Champions League and scored seven goals in 26 appearances for England, also featuring at Euro 2016 and the World Cup in Russia two years later.
But his old gaffer and life in the lower leagues were still fresh in the memory when he launched his own V9 Academy four years ago.
Vardy, 33, said: "I moved to Fleetwood on the last day of the window. There was a game that night and I was expecting to be on the bench.
"I turned up looking forward to being in the squad, and then the manager Micky Mellon called me into his office and said I was starting.
"I managed to put in a man of the match performance and end up with three staples in my head, from a York centre half's teeth going into it."
Mellon – who also worked with England duo Jack Butland and John Stones during his time as Barnsley caretaker and assistant boss – was blown away by Vardy's talents.
In 2016, he said: "There was a lot of interest in him but nobody wanted to make that jump. I've heard some people say they were going to buy him. Well, why didn't you?
"I went to my chairman and told him it was worth taking a gamble on this kid. It was a lot of money for Fleetwood but the chairman never even blinked.
"It was probably the best decision the two of us made because look at what the boy has gone on to do.
"When he came in and got among us, it became clear he could go further. I actually said to his agent he could play for England.
"He was greyhound-quick. And when I say aggressive, he was really aggressive. When people get angry they lose their focus, but he had this ability to turn anger into energy.
"So probably the worst thing you can do is make him angry. It's no surprise to see what he's done.
"I worked with John Stones (as assistant manager) at Barnsley as well. He was the same.
"They have this calmness about them that nothing is going to stop them getting the most out of their ability."
Last year ex-England manager Sam Allardyce expressed regret about his decision to ignore a Vardy recommendation from Mellon, a former player of his at Blackpool, during his time in charge at West Ham.
He said: "Micky Mellon at Fleetwood Town said, 'Jamie Vardy's going to turn your club around, you should sign him. It'll cost you £1million, he doesn't want to stay with us, he wants to move higher, I think he can play for you at West Ham. He'd be great.'
"It's something I've looked back on and regretted ever since."
The Scot – who looks to have beaten off competition from SFA performance director Malky Mackay for the Tangerines job – has an impressive record in the lower leagues down south and is regarded as a promotion and play-off specialist.
Yet, until the past few days, little was known about Mellon the man-manager.
Former Aberdeen and Fulham defender Jack Grimmer, now at Wycombe, told The Scottish Sun: "I went to Shrewsbury three times and that speaks volumes about Micky. He's the reason I kept going back.
"Right from the first moment I went in, he created that team togetherness. He does it with his staff as well.
"I wasn't surprised he managed two promotions in two years at Tranmere. It's just the way he does things.
"He's a great man-manager and I got on well with him. When I walked through the door he was that old-school manager who would put an arm around the players.
"He's very engaging. I think a lot of managers, players and coaches who have dealt with him would say the same thing.
"He would back you to the hilt. In interviews after games it would always be his fault and he always had your back.
"It would make you want to run through brick walls for him."
Ex-Rangers, Hearts and Scotland midfielder Ian Black enjoyed 13 months with Mellon at Shrewsbury.
"Micky is incredible to work under and a great motivator," he says.
"He'll analyse the squad, see what each player needs – whether it's an arm around the shoulder or a kick up the a***. He just knows how to get the best out of you."
Micky Mellon will be 'massive hit' at Dundee United if they make him Robbie Neilson's successor, says ex-Tangerines keeper