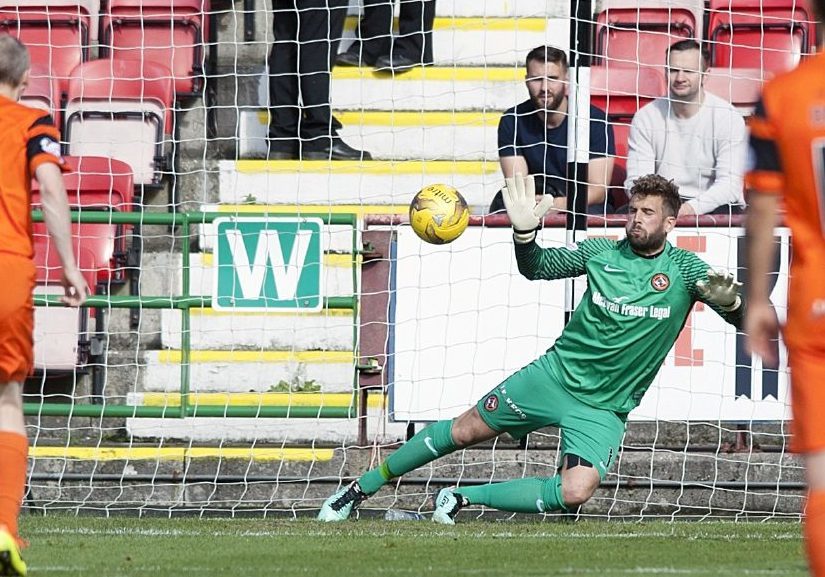 Dundee United's Cammy Bell believes his "goalie's hat-trick" may never be repeated.
The Tangerines' number one leaped into the history books on Saturday at East End Park as he saved THREE penalties in one half from Dunfermline's Gavin Reilly, Nicky Clark and Paul McMullan.
Others have saved as many spotkicks in one game before – Belgian keeper Jean-Francois Gillet for Mechelen against Anderlecht on October 2015 being the most recent.
However, an exhaustive internet search has failed to find someone in professional, senior football who has done it in one half like Bell achieved.
Indeed, the penalty timescale in this 3-1 victory for United was even more extraordinary in that the first kick came on nine minutes and the last on just 33.
It was simply a brilliant performance from the former Kilmarnock and Rangers man.
Fitting, then, that in getting the match ball signed by the other players and presented to him just like a three-goal striker, he invented the goalie's hat-trick.
"It is very special and probably will never happen again," said Bell.
"The rest of the lads were great with me and they were all buzzing afterwards.
"They were telling me that it was unbelievable and they'll never see anything like that again and I probably agree.
"It is obviously up there as a highlight of my career.
"There was the League Cup win with Kilmarnock when I had a great game that day but saving three penalties in a match is just unbelievable.
"I even have the match ball for getting a hat-trick!
"It is a different hat-trick to what everyone is used to but it's still a hat-trick.
"I can't stop smiling, to be honest.
"When I saved the third one I was just laughing to myself and a few of the lads even came over to give me a few kisses.
"That was nice of them and this achievement is something that will always stay with me.
"You have good times and bad times in your career and I have had plenty of bad ones so this is a good one and I will enjoy it."
Bell revealed that old-fashioned self-confidence was the key to his heroics.
He said: "I tried to be confident.
"You have to think like that because if you have the mental approach that you are going to save it you have a chance.
"I also go with the run-ups and judge where to go from those.
"I thought after I saved the first one that I knew where Nicky Clark would put the second.
"It was difficult, especially for the second one because my ankle was killing me after being injured in making the save in the build-up to it.
"When I was getting treatment from our physio Jeff Clark, he asked if I was OK.
"I replied: 'Jeff, I'll tell you once I save this penalty.'
"My ankle was really sore but I managed to shake it down, take my time and get prepared to try to stop the kick.
"I think the first one was a good save because I went the wrong way but got a good hand on it, also making sure I put it away from the taker rather than right back into his path.
"They then seemed to come around very quickly.
"After the third save, there was the reaction of the Dunfermline boys such as Gav Reilly and Nicky Clark and they were just shocked that it had happened.
"That's now definitely the most I have saved in any season so hopefully we stop conceding them now!"
Having his teammates resist the Pars' pressure and then put the game to bed in injury-time thanks to Tony Andreu's second goal of the game made the day whole for Bell.
He added: "Saving the penalties was great for me personally but getting the result was the main thing because had we gone on to lose or even draw then I would have been disappointed and this wouldn't have been such a special thing as it is.
"It is the complete package for me because we won.
"I was delighted with the way the boys held on with 10 men because they (Dunfermline) threw everything at us, especially in the second half.
"It is difficult to play in games like that and all the boys came in exhausted afterwards, having all done their jobs."
Then, just to show how good a mood he was in, Bell even let referee John Beaton off the hook for awarding the three kicks against United.
He said: "It is difficult for referees because there are so many bodies in there.
"Obviously, I have a go at the ref during the game but it is hard to criticise them.
"All you are wanting is consistency."
Meanwhile, one of the Pars who had his kick saved admitted Bell's stops were a "kick in the teeth."
McMullan said: "We are gutted, to be honest, because I thought we controlled most of the game.
"We had three penalties and couldn't score any of them so that was a kick in the teeth for us.
"I suppose when you miss three penalties you don't really deserve to take anything from the match.
"We actually played well in that first half to get into the positions to win the penalties so we were saying to ourselves at half-time that if we could do the same in the second half then the goals would surely come.
"However, they got us with a sucker punch right after half-time to go 2-0 up.
"We did get back into it quite quickly but couldn't quite the result we wanted."