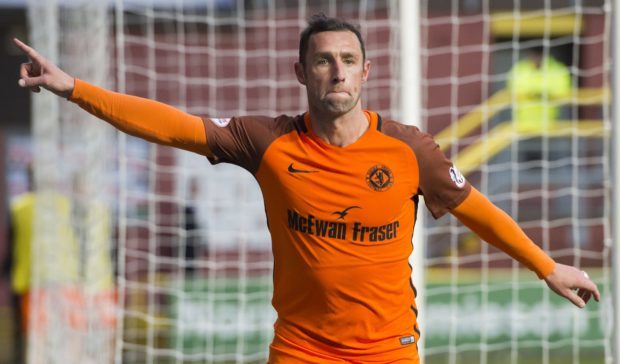 In this week's Talking Football, Courier sports writers Eric Nicolson, Ian Roache and Neil Robertson discuss whether Dundee United are at the top of the Championship for keeps, if Dundee can build on their weekend draw and the end of the St Johnstone goal drought.
Dundee United are top of the league. Is that where they're going to stay from here on?
IR: Having covered not just the Falkirk game but the St Mirren and Dumbarton matches before that one, I would argue that the only team that can stop United are United. They were excellent on Sunday and have the players, management and support to see the job through. It is all about self-belief, consistency of performance and lack of serious injuries now.
EN: The evidence of the two Laurie Ellis games and now the Falkirk win would suggest we are now out of the "let's see if they can back it up next weekend" stage. Hibs took their time to stamp their authority on the league last year, remember. We could be seeing the same now. It's starting to look like St Mirren and Dunfermline missed their chance to put daylight between themselves and United.
NR: I will have my first chance to see the post-Ray McKinnon United on Saturday at Brechin. The Tangerines will start as red-hot favourites but this will still be a testing fixture. The Glebe pitch could be heavy after a week of winter weather and this is the sort of game where United's attitude has to be spot on. If it is, then it will be a sure indication that they intend to be at the summit of the Championship table for the long haul.
How much credit should we be giving Csaba Laszlo for the Falkirk performance?
IR: When it doesn't go well managers get criticised so it's only fair we give them credit when it works out, as it did in some style on Sunday. He has tweaked the team rather than made wholesale changes and I think that shows respect for his assistant manager Laurie Ellis, who was in charge for the wins over the Buddies and Sons. It was also encouraging to see Laszlo give the likes of Paul McMullan, Patrick N'Koyi and Paul Quinn runouts from the bench in that he hasn't punished them for their part in the Crusaders cup shock.
EN: Like Ian, I think the Ellis factor has to be talked up. I actually wonder whether he might come to regret not making a pitch for the manager's job.
NR: I think Laszlo needs more time in the job before we can start lavishing praise on him. It is rare indeed for a manager to take over during the season at a club which had won its previous two matches as United had done under Ellis's stewardship.
Who have been the most significant United players in their post-McKinnon revival?
IR: Willo Flood would be my first first pick because he ran the show against St Mirren and then was doing the same against Faklkirk until he was subbed at half-time as a precaution. Fraser Fyvie has returned to the team and looked the top-flight player we all know he should be. Also, I would give a mention to Jamie Robson and Billy King, who are working well together up that left flank.
EN: Tam Scobbie. He looked like a great signing at the time and is crucially being played in his best position, centre-back.
NR: Having not seen United recently, I cannot pass judgement on individual players but I did cover McKinnon's final game against Inverness when the team's collective performance was pathetic. The difference in their results since has been nothing short of astonishing so someone has worked wonders to restore their confidence and self-belief.
Good result or bad result for Dundee at the weekend?
IR: It looks like opinion is split on that one, with some arguing that at least the rot was stopped but others saying that they need to be beating Killie at home if they are to move away from the foot of the table. On balance, I come down on the side of 'bad' mainly because of the results elsewhere, with Hamilton beating Rangers and Partick drawing at Tynecastle.
EN: Good. But only if better is still to come. Dundee were much more compact but the worry will be that as soon as they start to open up a bit to chase victories, old frailties will be exposed again.
NR: Bad. Considering Dundee's perilous position, games against the side sitting in second-bottom spot really are the proverbial six-pointers. It could though have been a whole lot worse if Killie's late chance had not cannoned off the crossbar and the clean sheet was at least a big plus point. However, Dundee will have to up their game considerably on Friday night at Dens against a Rangers side with plenty of points to prove after their defeat to Hamilton last weekend.
Goals. Where, or rather who, are they going to come from?
IR: A glance at the stats from the game tell you that Dundee had only one shot on target the whole match and that just isn't good enough. I would persist with Marcus Haber but also start A-Jay Leitch-Smith, whose strike rate has been decent.
EN: They've all been given a go and there isn't an individual or combination that looks like the long-term answer. I don't know what the response will be from John Nelms, but Neil McCann has to ask for attacking reinforcements in January.
NR: Good question! It is easy to point the finger of blame at the strikers but there is also little goal threat coming from the midfield while an imposing group of centre-halves that includes Josh Meekings, Jack Hendry and Kerr Waddell should arguably be chipping in with more. However, McCann could also do with settling on what he believes is his best combination up front and having the courage of his convictions to stick with it.
What chance to you give them against Rangers on Friday night?
IR: You could argue that Rangers are struggling because of that home loss to Hamilton but the pessimist in me tells me the Light Blues are unlikely to lose two in a row. Oh and let's remember that, for all their woes at Ibrox, they have not lost away from home in domestic competition this season.
EN: It has to be exactly the same approach as against Killie – safety first. Another 0-0 would do just fine. I do actually give them a half-decent chance because there will be even greater pressure on Rangers given their last result and the managerial situation.
NR: Rangers passed up a whole host of chances against Hamilton at the weekend and I cannot see them being as profligate again. Accies have done Dundee no favours with their famous win and unfortunately, I fear McCann's men will suffer a backlash from the Ibrox side.
St Johnstone. What was all the panic about?
IR: Yeah, keep the faith! The celebrations were something else and quite right too. You probably could have counted on one hand those at Easter Road who fancied Saints to go on and win it after that injury-time equaliser from Hibs.
EN: I certainly wasn't getting overly concerned – there are too many good pros in that dressing room to allow a crisis to develop. That said, I don't think their goal-scoring problems are solved and the arrival of David McMillan from Dundalk in January will be a big boost.
NR: Aye, there might not have been anything like panic surrounding McDiarmid Park recently but there was no doubting the sense of relief the Saints players felt as Steven MacLean secured their late, late winner against Hibs on Saturday. Knowing Tommy Wright's men, with that large primate now removed from their backs, I would not be surprised if they went on a wee run of results.
Do you think Tommy Wright has managed Saints for the last time?
IR: He probably will be buying that plane ticket to Belfast soon but I think St Johnstone's next game against Kilmarnock at McDiarmid on December 2 could be his leaving do.
EN: I think he might have. If Scotland can appoint Michael O'Neill by the end of the week, the Irish FA will want to have their new man announced swiftly after. And that has to be Wright.
NR: Nothing is ever clear cut where managerial manoeuvring is concerned but one thing is certain — if Wright is to leave he will do so with the best wishes of everyone connected with the club and his place in St Johnstone folklore firmly established for ever more.
Any games catch your eye in the Scottish Cup draw?
IR: I think United and Saints will see off Alloa and Albion Rovers respectively, even though they are away games, but were Dundee to be playing in-form Inverness at home this Saturday I wouldn't be entirely confident about that being a home win. Hopefully, by the time the ties are played around January 20 the Dark Blues will be in a much healthier state. Oh and I wish Brechin all the luck in the world for that trip to Celtic Park – they'll need it!
EN: East Fife haven't got a glamour tie but what a chance to get to the last 16 Brora Rangers at home gives them.
NR: Not as much as the "little and large" combination of former football midfielder Colin Cameron and rugby legend Doddie Weir making the draw live on Sky!