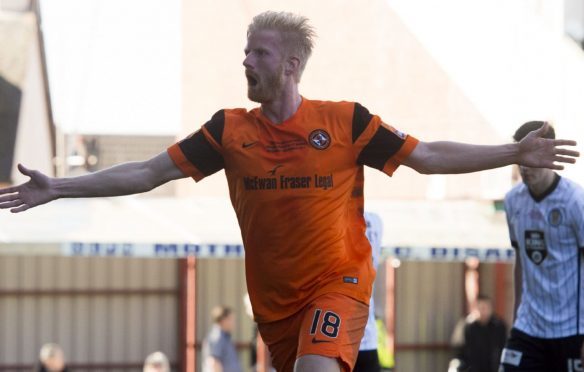 Thomas Mikkelsen has joined Dundee United for a second time.
The Danish striker, who spent the second half of last season on loan at Tannadice, will do the same this campaign.
The 28-year-old has drifted out of the first team picture at Ross County, where he scored four goals in 13 appearances.
Mikkelsen will go straight into the United squad for today's Scottish Cup clash with Alloa.
Manager Csaba Laszlo said: "We need a striker who shows presence, has speed and power and is willing to work.
"There were other options but when you look at Thomas against those other options, this deal is the best for Dundee United.
"He very quickly answered the question as to whether he would like to come back to United. He knows the club, he likes the club and he will be ready to play straight away. Although this is a loan deal, after the season we can then see where it goes."
Laszlo has been busy in the January transfer window, with Craig Slater, Brandon Mason and Emil Lyng earlier arrivals.
Meanwhile, Sam Stanton has signed a permanent contract with United through to 2020.
Laszlo added: "Sam is a player who I can use on the right side, the six-position and also the 10-position. He is a good person who fits the club and is a good signing for United.
"He very quickly decided he wanted to stay here. He believes he can help the club achieve its target of reaching the Ladbrokes Premiership and despite only being here a short period while on loan, he was very clear his future was here."