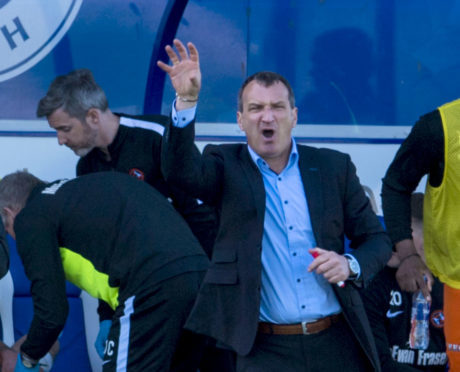 Had it not been for Dunfermline's stoppage time equaliser in Inverness, Saturday afternoon could have been a whole lot worse for Dundee United.
But even the fact that the 2-2 draw in the Highlands nailed down the Tangerines' play-off place wasn't enough to raise spirits in the visitors' dressing room following the 3-0 defeat to Queen of the South.
The positivity will come as the week progresses, no doubt, but it wasn't even a case of mixed emotions for Willo Flood in the immediate aftermath of their Palmerston performance.
"Do you know what," he said. "The only emotions in that dressing room are terrible ones.
"The lads were bawling at each other in the dressing room and the manager had a few different things to say. Then someone just said, 'we're in the play-offs'.
"We played poorly today and should be embarrassed by how we started. It looked like a pre-season game.
"You'd have sworn they were the team going for the top four, not us.
"I don't know if having a lot of games in a short space of time was a factor, or it being a sticky pitch and a bit warm.
"There could have been mental tiredness.
"If we'd scored the first goal we'd have got a lift but we conceded two and gave ourselves a mental drain straight away.
"You can't come to places like this and start like that. It's not good enough."
United have only won two games on the road in the league since the start of December and Flood didn't have to think for too long to find the answer to what will need to change in their (hopefully) three away play-off legs.
"Clean sheets," he said.
"If you look at our record we've conceded a lot of goals away from home.
"Maybe we don't work hard enough as a team.
"At home we're a totally different team. We get after teams, press high up the pitch and create chances.
"Maybe in these play-offs we need to work harder for each other away from home and make sure we're more solid as a unit."
A chance spurned by Stephen Dobbie after just 28 seconds proved to be a warning sign that United were incapable of heeding.
The pattern of the play was set.
Lyndon Dykes finished from close range on eight minutes and a deflected Josh Thomson trundler made it two on the half-hour. The common denominators in both were slow to react in mind and body United defenders.
The third goal in the second half from Connor Murray was the pick of the bunch and the subsequent response from United was too little, too late.
United boss Csaba Laszlo admitted his team "didn't deserve to win" but has already turned his mind to the play-offs.
He said: "First we have to secure third place against Livingston.
"Then the play-offs will be different. It's like a new tournament. The season has had a lot of ups and downs and it wasn't just today that we lost second position.
"The most important thing is that the team is positive in our heads that we have made the play-offs.
"We will have to come from behind but I am confident that we can play well in those games."
Gary Naysmith was a proud Queens manager after seeing his side post their biggest ever win for the club against United.
The victory was their first at home in seven.
He said: "When you've got nothing really to play for apart from pride in your last three games a lot of teams could switch off but we've been excellent.
"They rightly got a standing ovation from the fans.
"There's a lot of frustration that we've missed out on the play-offs."