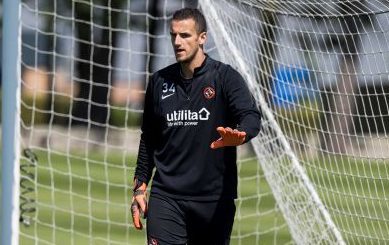 Dundee United goalkeeper Matej Rakovan would love to emulate his friend Dusan Pernis as he embarks on his new career at Tannadice.
Rakovan got the first taste of action with the Tangerines on Tuesday night when he played the second half of their 2-0 win over Brechin City at Glebe Park in a pre-season friendly.
He is well aware he is following in the footsteps of fellow Slovak Pernis, who will always have legendary status at United as the man who kept a clean sheet against Ross County when they won the Scottish Cup in 2010.
Rakovan revealed he chatted to Pernis when he considering his summer switch to Scotland and, unsurprisingly, his pal gave his old club a ringing endorsement.
Now he hopes to become something of a hero himself by helping the Tangerines back up into the Premiership.
Rakovan, who is fighting it out for the gloves with Swiss shot-stopper Benjamin Siegrist, said: "Dusan is a friend of mine.
"We spent time together – two years exactly – at MSK Zilina, a Slovakian club who play in the Superliga back home.
"We get on very well together and he has helped me a lot.
"He is very satisfied that I have joined Dundee United because he had great times here as a player.
"Dusan has had so many good experiences, winning the cup here in Scotland with United and also back in Slovakia.
"I would love to make the same sort of impression as he did.
"I want to be a winner for this club and I want to get promotion to the Premiership.
"He has already been on the phone to me, telling me about accommodation and other things off the field.
"He has given me plenty advice, for sure.
"My main goal is to get out of the Championship and into the top league and I know Dusan will be delighted if I can do that."
Despite being a Slovak, Rakovan had been playing across the border with first Slavia Prague then FC Vysocina Jihlava in the Czech Republic before deciding to up sticks and head to Tannadice.
He joked: "I was in Prague in the Czech Republic for maybe too many years!
"Seriously, I'm from Slovakia but my wife is Czech.
"Of course, it's a different challenge here in Scotland from what I'm used to. The culture is so different.
"If you compare the facilities, for example, they are much better here than in the Czech Republic.
"We have a great base at St Andrews.
"Hopefully, we can use that to help us get to where we want to be.
"It's a pleasure to work with Neil Alexander, our new goalkeeping coach.
"He's a legend here in Scotland so I'm sure he can help my own game.
"It's great to be here and I just want to do as well as I can for this club."