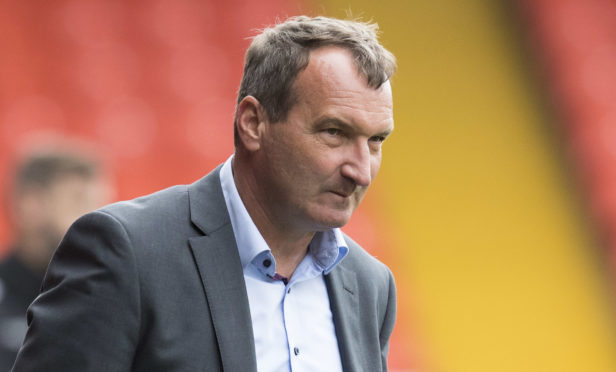 After weeks of managers being under pressure in the city of Dundee, one has now lost his job. Courier sports writers Neil Robertson and Eric Nicolson discuss the way forward for Dundee United and the win that has taken some heat off Neil McCann.
So Csaba Laszlo is gone. Was it the only outcome after a result like Saturday's?
NR: I was covering St Johnstone at Tynecastle on Saturday but as always was keeping an eye on how our other teams were doing. When I saw the Ross County goals raining in, it didn't take the deduction powers of Sherlock Holmes to work out that Laszlo was a dead man walking.
EN: Put it this way, I've yet to speak to or hear about a Dundee United fan who felt Laszlo deserved more time. That probably says it all.
Before we move on to his replacement, how would you sum up the Laszlo years (actually months)?
NR: I was at Tannadice for Laszlo's official unveiling on November 8, last year. At the time, I thought it was a strange appointment and speaking to some players who worked under him but have now left the club, they would certainly agree. Overall, his results were simply not good enough – the 6-1 defeat at Falkirk last season was arguably a sacking offence on its own.
EN: He got off to an OK start but it just didn't work. Disconnect is the best word I can come up with to describe the situation. Obviously that became the case with the fans and the manager but, crucially, you never got the impression that the players were on the same page as their boss. I do think that Laszlo had some good ideas on how the game should be played but it appeared to be a struggle getting that message across to his players and too many performances reflected that. Football shouldn't be as complicated as United have made it look.
Mike Martin's biggest decision so far was to stick with Laszlo in the summer. Was he wrong and has the chairman's stock fallen as a result of it?
NR: Yes and yes. The failure to win promotion should have led to a natural parting of the ways at the end of last season but instead, Laszlo along with Paul Sturrock was allowed to bring in 14 new players. Despite the chairman's repeated votes of confidence, it seemed the manager was always just one bad result away from losing his job and so it has proved. Martin now has a huge responsibility to pick the right man as replacement but considering his backing for Laszlo, I am not convinced he has the right amount of footballing savvy to do so.
EN: I'm going to steal Ian Roache's phrase on one of our podcasts. Martin went "all-in" with Laszlo. It was perhaps admirable to show such faith but it was misguided. There were plenty of signs out there that it just wasn't working and the summer would have been the best time for a clean break. It was THE big call of Martin's tenure so far and he got it wrong. With the financial backing that was given in the close-season the right manager would have had United at the top of the league or very close to it by now.
On to the next man. Do you think Laurie Ellis has a realistic chance and should he have a realistic chance?
NR: Unless United already have one of the favourites linked with the job such as Robbie Neilson or Jim McIntyre lined up, then Ellis does have a chance. He won his two games in charge as interim boss after Ray McKinnon was sacked but felt at that time, he wasn't ready to become the permanent manager. A year on, the former Raith stalwart might feel differently and a win against league leaders Ayr on Saturday would certainly help his cause.
EN: I'm not comfortable with a caretaker audition. Ellis has a lot of the qualities you would look for in a manager but making a judgment on the basis of one or two games is fraught with danger. I think that in United's position it's too big a risk and that they need more experience.
The big question . . . who would you appoint?
NR: Neilson and McIntyre have their merits – crucially they both know how to win promotion to the top tier. John Hughes' name also keeps cropping up but after his ruinous reign at Raith, United shouldn't touch him with a barge poll. However, if Ellis really wants the job and he can somehow turn a rabble that lost 5-1 on Saturday into a team capable of beating Ayr at Somerset Park, then I believe he should be given a chance.
EN: McIntyre would be my choice. He was my choice last time as well.
Most people thought Neil McCann was the man whose job was under threat at the weekend. Has he now bought himself more time or could it lurch back to crisis mode with one bad result?
NR: The delight on the faces of the Dundee players and management at the final whistle on Saturday showed just how much this win meant to them. They had been well and truly stuck in a rut that was getting Grand Canyon deep and hopefully having hauled themselves out of it, they can kick on once more. However, it certainly will not be easy at Dens on Saturday against a Killie side containing an in-form Greg Stewart.
EN: I covered the Dundee game and they don't suddenly look like top six contenders but I've seen enough of Hamilton this season to think the Dark Blues are a better side than them. And I suspect they have more about them than St Mirren too. The fact that they won't be cut adrift should ensure McCann will survive whatever happens at Dens on Saturday.
What went right at Hamilton that hasn't gone right previously?
NR: McCann finally got his wish with Dundee taking the lead for the first time this season in the league. That gave them something to build on instead of having to chase a game. Keeping a clean sheet was also vitally important both in the context of the Hamilton match itself and for the games coming up.
EN: The centre-backs impressed me. Both Ryan Inniss and Andy Boyle look suited to the demands of the Scottish Premiership. Long may they stay fit.
Do Kenny Miller and Paul McGowan go back into a winning team?
NR: I think Miller will come straight back in but by all accounts McGowan's replacement Lewis Spence had a fine game against Accies and he will probably retain his place in the starting 11.
EN: I'd stick with the same team. I've always thought players involved in a win – particularly one that's been as long coming as Dundee's on Saturday – deserve to keep the jersey. It's a good message to send out.
Anything to worry about in St Johnstone's recent results or are they just to be expected given the teams they've been facing?
NR: Saints boss Tommy Wright will certainly not just "expect" to lose games against Rangers, Celtic and Hearts. The manager forcibly reminded his players after the defeat on Saturday that he would not accept mediocrity at the club. We will see how they respond when the champions visit McDiarmid again on Sunday.
EN: A run of games like Saints' is why you can only really gauge where sides are until the first round of fixtures is over. I don't expect them to beat Celtic but I do expect them to start picking up points again soon after.
League One has a local top of the table clash for us. Raith v Arbroath. McGlynn v Campbell? Who wins?
NR: Raith certainly received a new manager bounce as they pummelled Dumbarton 5-1 on Saturday in what was McGlynn's first game in his second spell in charge of the club. However, Campbell's men won again at the weekend against Airdrie and the league leaders are currently 12 games unbeaten. So sitting firmly on the fence, I will forecast a scoring draw!
EN: How did I know Neil would go for the draw?! I haven't seen Raith this season but I was very impressed with Arbroath against United in the Betfred Cup. Away win.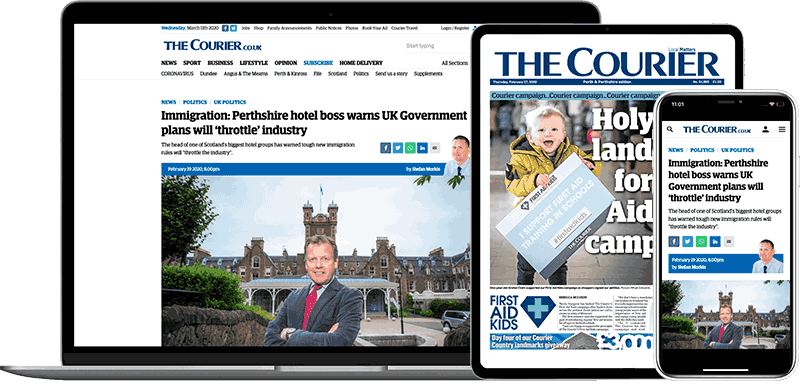 Help support quality local journalism … become a digital subscriber to The Courier
For as little as £5.99 a month you can access all of our content, including Premium articles.
Subscribe