Dundee United now look like a boxer who has trained himself into shape for a big fight.
While the Tangerines had looked confused, mis-shapen and lacking self-belief under previous manager Csaba Laszlo, suddenly they look clued-up, well-drilled and confident with Robbie Neilson in their corner.
United didn't even need to be at their best against Dunfermline at East End Park on Saturday.
They still packed a harder punch than the Pars where it mattered – in attack – and the goals from Paul McMullan and Billy King, one in each half, were more than enough to get the decision.
They could even afford to miss a penalty, with McMullan the culprit for clipping the post with the scoreline at 2-0.
They were well ahead on the scorecards by that time anyway and saw the game out with little trouble despite a late flurry from the hosts.
Neilson's record now reads two wins and a draw.
The really encouraging thing is that there looks to be more to come from this side as they get used to Neilson's methods.
Asked for a reason for United's – albeit still modest – revival, captain Fraser Fyvie pointed the finger at his new gaffer.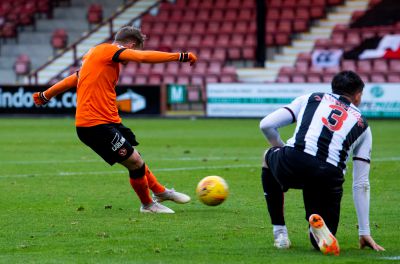 Fyvie said: "His training is brilliant and that was the case as soon as he came in.
"It is so detailed in what he wants to do and you can see that come out on the pitch.
"His analysis on the game is excellent. We do videos and also spend loads of time on the training ground going over things.
"It has been about the fine details.
"There are double sessions but they are really enjoyable and extremely sharp.
"We know exactly what we have to do and the instructions are there for us.
"You need to take it on board quickly or he'll go past you because he knows what he wants from us and doesn't miss anything.
"For example, everyone knows what everyone else should be doing and if you are not in a certain place at a certain time during a game then everyone knows it's your fault. There are no gaps where you can say: 'It's not my fault.'
"You can see over the last three games that it has worked already and the boys have taken to it straight away.
"He has had a positive impact on the players, the fans and the club.
"There is now that good feeling back at United that you need."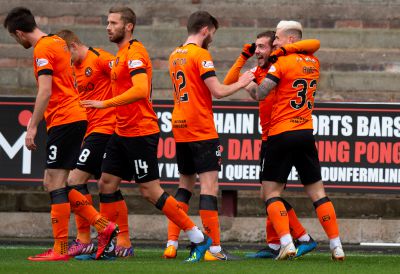 United took the lead on 24 minutes after they were awarded a freekick which Dunfermline thought should have been theirs, with Faissal El Baktaoui the alleged victim.
Former Par Fraser Aird, who had been getting plenty of stick from the home fans, sent the setpiece over from the left and McMullan – the smallest man on the pitch – flicked a header past keeper Lee Robinson at his near post. As the United players celebrated, El Baktaoui was booked for protesting about the award of the freekick.
The Tangerines made it 2-0 on 60 minutes and McMullan was involved again.
He tried to find space for himself inside the box to shoot but instead squared to Billy King, who turned back inside before firing into the net from eight yards.
If there was a negative for the visitors it was McMullan's missed spotkick miss that followed.
It seemed Fyvie was going to take it himself but he gave in and let McMullan have the ball, only for him to clip the post with his kick.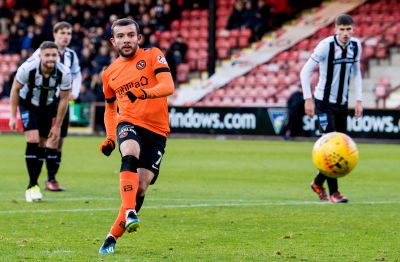 Fyvie explained: "I asked the gaffer before the game if anyone was on the pens and he said: 'Oh, you decide.'
"Wee Paul was adamant he was taking it.
"I was going to take it myself but he wanted it as a forward player.
"He had already scored one so I gave him an opportunity to score a second.
"He missed it but so what? He had the b**** to go and take it. We still won the game so it made no difference and we move on."
Manager Neilson added: "Fraser spoke to me before the game and asked if I wanted to pick somebody. I told him that he as captain should decide what to do.
"I would prefer to have whoever feels good at the time to go and take the penalty. The big thing for me was that, say three or four months ago, there would not have been many people offering to take the penalty but this time we had three or four guys desperate to take it.
"Look, people miss penalties but that doesn't matter. At least you have the bottle to go and take it. I have been in teams when nobody has wanted to do it and it has been last man standing.
"So while it was disappointing it didn't have a huge bearing on the game."
Fyvie agreed it was a real positive that the Tangerines were pretty comfortable winners without ever hitting great heights.
He said: "I don't actually think we played that well but we scored two goals at crucial times in the game.
"We can still do a lot better on the ball – keep it better in the final third.
"We ground out a result and I don't believe we were great.
"I think, though, that a few months ago we would have lost that game.
"Dunfermline are a decent outfit, albeit they are not on a good run just now.
"It is a great result to take away because I don't think anyone comes to East End Park thinking they will get an easy game."
As for the Pars, they are obviously struggling to score goals or defend well, especially at home.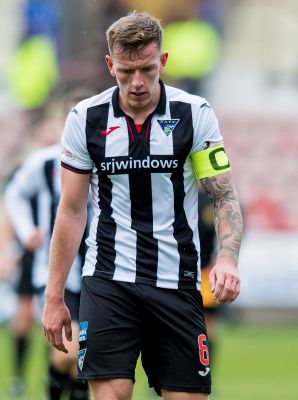 Maybe it is a blessing in disguise that their next match – tomorrow's trip to Inverness – is so far away from Fife.
Their skipper Lee Ashcroft admitted they deserved to take nothing from the United match and knows they need immediate improvement.
Ashcroft said: "I think, to be fair, they probably deserved to win.
"The last couple of weeks our results haven't been great but I felt against Queens and Alloa we should have won those games.
"I think this was one of the first times we didn't deserve to do so.
"They were the better side and we need to pick ourselves up quickly because that wasn't (good) enough.
"The first goal is massive in this league and when you lose it confidence can go for some boys.
"We need to put it right.
"I understand the fans are frustrated but there's nobody more frustrated than us.
"We have games coming thick and fast, and we have to turn it around at Inverness on Tuesday."