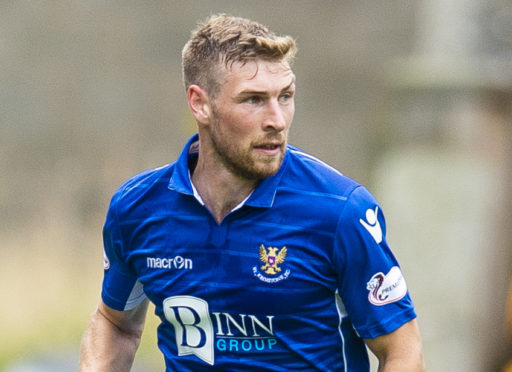 The St Johnstone players will put their manager's fighting talk into action in today's crucial McDiarmid Park clash with Hamilton Accies, according to David Wotherspoon.
The midfielder insisted that just because the current Saints squad doesn't have the miles on the clock of previous ones he has been a part of, doesn't mean that they don't have it in them to dig deep and get the results needed to turn the Perth club's season around.
And easing the pressure on Tommy Wright will be high on the list of motivating factors this afternoon.
"We are the ones on the pitch," said Wotherspoon. "We are the ones who have to go out and win the game for the manager.
"So far we haven't been able to do that but we still believe we're good enough to win games.
"This is a different team to the ones from the past. There are different players with different characters.
"There is obviously a lot less experience in this dressing-room compared to the teams we've had before.
"But the character is there. This is a group which is desperate to start winning games.
"There is an onus on the more experienced players like myself to help them through this and pass on as much as I can.
"We have quality, everyone knows that, it's just about getting that win which will spark it and then start moving up the table."
The Premiership table makes for bleak viewing but Wotherspoon stressed that St Johnstone doesn't have the feel of a crisis club in the making.
He said: "The three points is massive for us this weekend. We need to bring this run to an end.
"Getting three points would get us on our way, so hopefully we can put in a good performance and get the result we're looking for.
"We are not sitting about thinking about being bottom of the league because we know we have a good enough team to pick up results in this league.
"But it's about doing it on a Saturday when it gets down to the nitty gritty.
"We have good players and we can win games. We believe that.
"There is not a big gap at the moment but we have to start putting three points on board because the games go away.
"It doesn't feel like we're under pressure at the moment. Maybe we should feel like that.
"All the focus is just on this game and winning it, we haven't been looking at anything else.
"It's all about this one game and trying to get three points on the board."
Until they manage to do it, one key statistic will continue to be trotted out when discussing Saints' form.
"Scoring first would be massive because we haven't done that this season," the former Hibs man admitted.
"Against Ross County we dominated the game, lost the first goal and then came back.
"We felt we should have won that game and against St Mirren we dominated the first 35 minutes then lost a goal right before half-time.
"Scoring first is really important because we have given ourselves too many mountains to climb."
Saints have an excellent recent record at McDiarmid Park against Accies – they have won the last five by a combined scoreline of 12-1 – but that won't be factored into Wright's pre-match team-talk.
He said: "It's a positive stat but in the situation we're in we just need to make sure we go out tomorrow and fight for everything.
"Hamilton won't give us anything. They're a strong and determined team. Brian's got them playing well.
"We've got to make sure we're right.
"I've said this week that I'm up for the fight and my players have to be up for the fight as well.
"We know that we've let ourselves down in games this season and that has to change, and change quickly.
"I can imagine it will be a battle. We have to bring a ruthlessness to our game which has been lacking at both ends.
"We have to be ruthless when we're on top and ruthless in our own box when we're defending – head it, kick it and get your body on the line.
"There's enough quality in the team to get a win. I expect everybody to give their all for 90 minutes."