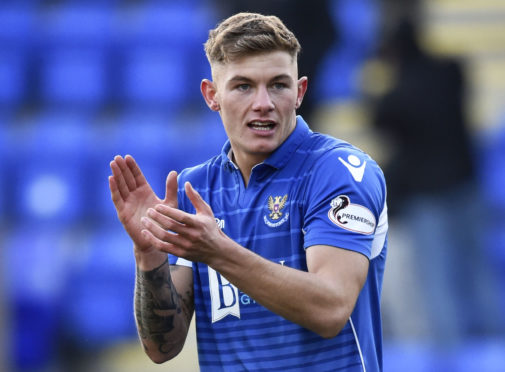 The goals didn't flow for Callum Hendry at Brechin City.
But the manager who took him on loan to Glebe Park could still see the young St Johnstone player was a Premiership striker in the making.
Hendry only found the net once in an injury-interrupted spell in League One that was cut short.
According to Dods, that doesn't tell the whole story of his time in lower league football, however.
The qualities that would see Hendry burst onto the top flight scene with nine goals for Saints this season were also in evidence at Brechin.
"It's good to see Callum doing well," said Dods, who was replaced by Barry Smith at the Angus club not long after Hendry arrived.
"The plan was for him to link up with Andy Jackson, who is a very clever striker and played for St Johnstone of course.
"He did really well in the first few games after we brought him in. He was brilliant at Arbroath and played well at Forfar a couple of weeks later, scoring a goal.
"He had a wee dip but that always happens with younger players the first time you've been put out on loan.
"I think he broke his wrist the second game after I left. I don't know what happened after that."
"He's obviously gone back to St Johnstone and broken into the first team there."
When Dods is assessing whether loan players will be a success when they return to their parent clubs, it is attitude as much as ability that catches his eye.
"You could see the talent," said the former Saints and Dundee United centre-back. "I liked the aggression he had as well.
"He wasn't scared of a challenge. He was never afraid to go for a header, which isn't always the case with young loan players. He probably gets that off his dad.
"He can get himself up early, hang in the air and go up against strong centre-halves.
"He always wanted to work hard and when his form dipped a couple of times and he was left on the bench, he didn't go in the huff which is another good sign.
"It was the same with (Aberdeen's) Connor McLennan when he was with us. He's had some good games for Aberdeen and the next thing for him is getting that consistency."
Dods knows that Hendry's Perth team-mates have come to the same conclusion about him.
"Callum was really good in training," he added. "He just needed to take that into games.
"When I was at the 10-year Dundee United Scottish Cup reunion dinner I was talking to Danny Swanson about Callum and he said how good he was in training.
"He's got the ability and now you're starting to see consistency as well. He's a natural goalscorer."