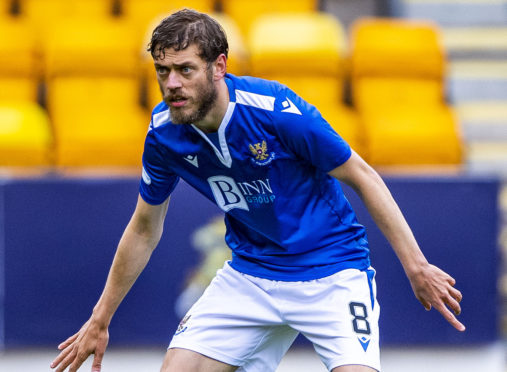 Even the great Sir Alex Ferguson would struggle to turn St Johnstone into a winning team if they continue to concede soft goals, according to midfielder Murray Davidson.
Only goal difference is now keeping Saints off bottom place in the Premiership after the 2-0 defeat to Livingston on Saturday, their fifth loss in six games.
Davidson, making his first start of the season against his old club, believes the coaches are the only ones who escape blame at the moment.
"It's nothing to do with the manager," he said. "The manager and his staff have been brilliant since they came in. He can't put the ball in the net for us and he can't defend our own 18-yard box for us.
"If we give away goals like we have done as a team then we are not going to win games – we could have Sir Alex Ferguson as a manager.
"It's not the defenders, the strikers, it's as a team we have to do better. Whether it's pressing more, being horrible, fouling someone.
"We've just said in the dressing room that the manager can't keep coming in saying we're doing this right or that right. It comes down to winning games. If we're not as good as other teams in the two boxes then we are not going to win games.
"Any successful team does the ugly stuff well and we have go to get back to that."
LONG READ: St Johnstone 5-0 Aberdeen – historic scoreline that created Perth legends