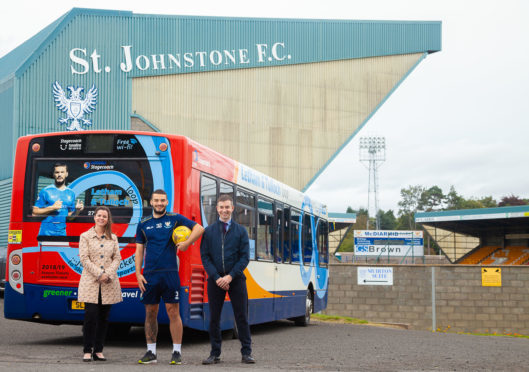 After scoring four goals in August, Tony Watt may have half-suspected he was in line for the player of the month award.
But seeing himself on the back of a bus wasn't the sort of recognition the St Johnstone striker saw coming.
For Watt, it's just another sign that joining the Perth club in the summer was the best career move he could have made.
"When I was told about it I thought it was a great thing," he said of the Stagecoach gimmick. "It's pretty funny.
"Someone sent me a picture of it. It's just one of those weird things that football sometimes throws up.
"If you'd told me when I signed here a couple of months ago that they would be putting my face on the back of a bus I would have thought it was a wind-up.
"But no, it really has happened and it's a good laugh.
"The lads haven't been taking the mickey too much about it, I think a few of them are jealous anyway!
"Maybe if we do well this season then everyone will get their face on the back of one.
"The gaffer will probably get a statue built for him after the job he's done here over the years.
"Maybe when they do that, they'll put my bus beside it because it will be clapped out by then and have plenty of miles on the clock!
"Wee things like that are nice, though. It makes you feel wanted.
"If you were not doing any good then nobody would want to do something like that so it's a nice thing.
"The joke has been which one of us can turn the quickest – I don't think anyone knows the answer to that."
---
>> Keep up to date with the latest news with The Courier newsletter
---
Watt will today be coming up against an Aberdeen team which played a part in his career revival.
"I trained with them last season so know all the lads there and have a lot of respect for them," he explained.
"Everyone there was brilliant with me when I was there.
"The staff were great and the players just took me in and treated me like one of the boys.
"They tried to stitch me up and got me involved in all the stuff in the dressing-room, which was exactly what I needed at the time.
"I knew I was just there to train but I appreciate what Derek did for me and I owe him a lot.
"He opened the door for me for a few months and helped me reignite myself.
"That gave me somewhere to focus on training again and then the gaffer here took me out of the darkness in the summer.
"When I was at Aberdeen I didn't stay up, I would go up on a Monday and back on a Tuesday, then up again on a Thursday and home on a Friday.
"And if they trained on a Sunday I would just go up and back in the same day.
"It was a lot of miles but it didn't bother me, I was just delighted to get back involved with someone again.
"It helped me. It put me in a routine and showed me that I can really dedicate myself."
Saints are looking to make it three league wins in a row after their victory at Hamilton a fortnight ago.
"When you have an international break coming up you know it's important to go into it with a win behind you," said Watt.
"It can be a long couple of weeks if you don't so thankfully we managed to beat Hamilton and go into the game with Aberdeen in a positive frame of mind.
"We believe we can win every game we play but we know this will be tough."
Watt didn't score at Hamilton but his new strike-partner, David McMillan, did.
He said: "David is a good player. He is a real finisher and it's nice to have someone like him alongside me.
"I don't know whether we will play a one or a two every week, that's the manager's decision.
"We have started to get a good understanding, he's been asked to drop in a bit deeper and help out that way.
"He's doing well in that role and he's also got a big goal threat because he's such a good finisher.
"With more teams playing a three it's important to have someone who can drop off and someone who can get in behind.
"We have good players and I think everyone is finding their feet now and getting used to how each other plays."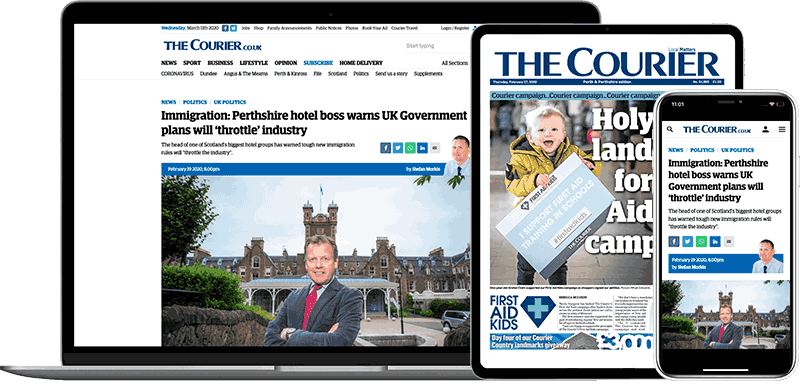 Help support quality local journalism … become a digital subscriber to The Courier
For as little as £5.99 a month you can access all of our content, including Premium articles.
Subscribe