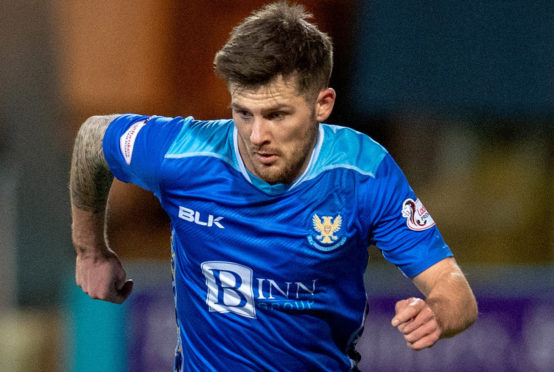 The first winter break of Matty Kennedy's career has come at the perfect time for the St Johnstone forward.
And Saints' star man hopes that it will ensure he lasts the pace all the way through to May.
"I have never had a break at this time of year before but I think it will be a good thing for me," said Kennedy, who was on top form at the end of December.
"In the past I've found out that later in the season I've blown up a wee bit.
"The way I play, I do lots of running and use plenty of energy every week so it takes its toll.
"Hopefully getting that rest and being able to put the feet up a bit will benefit me when we get to the final few weeks of the season."
Saints haven't gone abroad this week, unlike several of their Premiership rivals.
But Kennedy is perfectly content that the Perth men are staying in Scotland.
"I went to Tenerife for a week and we were back in at the start of the week for training," he said.
"With the weather we're having this winter it's no hassle staying at home because it's not as if we have been hiding from the frost and snow.
"At Cardiff Neil Warnock was never a huge fan of it during the winter so I'm used to being at home in January.
"We are just building up to the games starting now and looking forward to the Scottish Cup."
Kennedy's performance in the last game before the break at Dundee has been talked about as one of the best individual displays from a Saints player in recent times.
The rapport between player and fans was already there for all to see but Dens Park has strengthened it.
"We wanted to beat Dundee for the supporters because we know how much they like the derby games," he said.
"We took a great support and the atmosphere was superb, which really helped us.
"I thought as a team we played really well and personally it might have been my best game since I came here.
"Everyone was on form that day, though, we could have scored more goals than we did.
"It was great, the fans have been brilliant to me since I joined and I've really enjoyed it.
"I suppose if they are singing about you then it's a sign you're doing something right."
Kennedy's form will inevitably lead to talk of a move away from McDiarmid Park but the former Kilmarnock man won't be fuelling it.
He pointed out: "We have a great group of lads. This is the best changing room I've been in.
"Hopefully the manager can keep the squad together and I don't understand why anyone would want to leave.
"We have a really strong group. There are no cliques or anything.
"I always knew coming back to Scotland it would be like that, down south it's different.
"The banter is much better up here, the lads all mix better and I think that really helps.
"We did well in the first half of the season and now it's just about taking it game by game.
"Nobody has looked at the league and said we need to be here or there, it's just a case of playing like we have been and we'll see what happens."