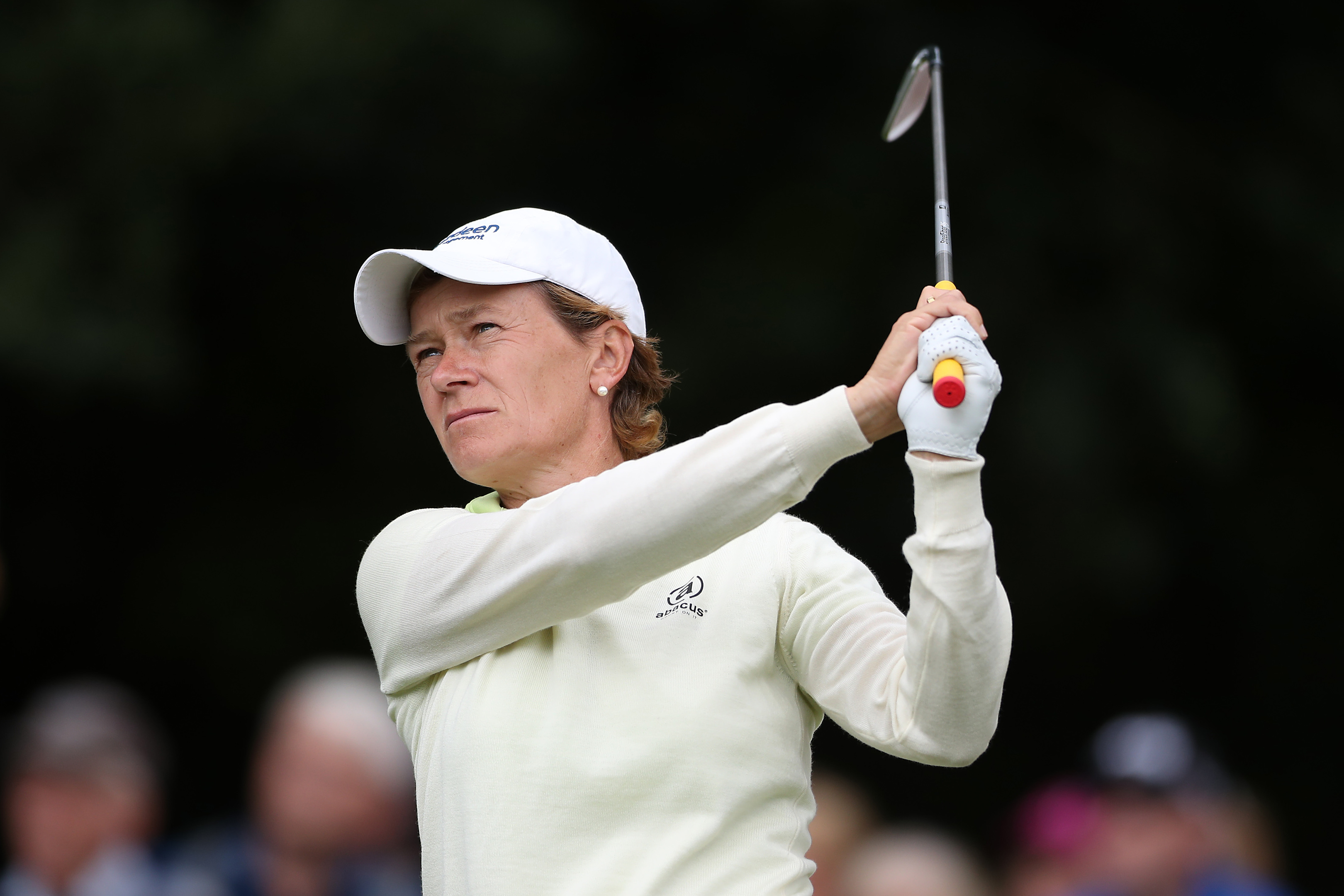 No sooner has Catriona Matthew got her young daughters into golf than she's started to pinch their equipment.
The European Solheim Cup captain has been struggling with her putting this season as she prepares for the Aberdeen Standard Investments Ladies Scottish Open at the Renaissance, just up the road from her home in North Berwick.
The solution came watching the men's PGA and from her 10-year-old younger daughter Sophie.
"My putting has been pretty awful, and I was watching the guys at the PGA and they were using putters at 34 or 35 inches and are six to seven inches taller than me," she said.
"They looked so much more relaxed over the ball I thought it might be an idea to go shorter – my usual putter is 33 inches. Sophie's putter is just over 30 inches, so I took that and holed quite a few putts with it. She's none too thrilled about it, though!"
Having decided to rein in her LPGA Tour visits this season – due to Solheim Cup considerations and a wish to spend more time at home, Matthew will still be hugely busy playing Ladies European Tour events and in the build up to Gleneagles.
"I'm going to play the team event with Suzanne (Pettersen) and the KPMG Ladies PGA in the US but then play more in Europe," she said. "It's not as if I'm stopping altogether and the summer is busy with the Women's British, the Evian and the Scottish.
"I played the Renaissance a couple of times and it's always nice when you play so close to home. In some ways, it is easier playing away from home, because you can get into your routine of what you do when you're at a golf tournament. But it will be nice being at home and the kids can come and watch.
"It's fairly open off the tee, the real test comes in getting your second shots in the right places. I suppose it is like a modern links, there are a lot of trees and you get a bit of protection if it is blowing a gale."
Catriona thinks that the Scottish, which shares a venue every year with the men's Scottish Open but on different dates, could become one of the events where the men's and women's tours play together.
"I think you need two golf courses, and where you have that it is possible," she said. "I would like to see it. You want variety so you wouldn't want that every week, but to have it three times a year would be great, just to have the men and ladies mingling.
"It works well in tennis and the men's event doesn't overshadow the women's there. It's the kind of thing that could evolve and grow."
As for the Solheim, Catriona continues to visit Gleneagles regularly in preparation for the event, while keeping an eye on possible qualifiers.
"We had great results on the LPGA last week, with Bronte (Law) winning and Madeleine (Sagstrom) second. I think there were six Europeans in the top 20, so hopefully they're not peaking too soon.
"Bronte is obviously very much on the radar. She is kind of a fiery, feisty player, obviously great at  matchplay because she has that never give up attitude."
Catriona is keeping an eye on Ireland's Leona Maguire, who has won two events on the second string Symetra Tour, but would like to see more from the rookie.
"There is a big jump from the Symetra Tour to the LPGA, but she is playing at the US Open this week and I think she is in the KPMG in June," she continued. "It will be interesting to see how she does those two weeks.
"Right now, you'd have to say the chances of getting a Scot in the team are pretty slim, someone would have to have a really big summer. But there are plenty of points available and you have the majors coming up, and the Scottish and the Evian."
Catriona has already talked at length with Paul McGinley, the Ryder Cup captain at Gleneagles, about the way the course sets up.
"I went round the course a few times the winter because obviously any changes are done quite far out. We've done perhaps a couple of little tweaks; around the greens there are a lot of run-offs, which is more European and suits our team better.
"It will just be things like the firmness of the greens. We don't want target golf with the ball just stops. It will be a couple of little things like that, but nothing major.
"The team is named the Monday after the Scottish Open and we are going to have a practice there just after that so it will be interesting to get the players' thoughts on a couple of things."