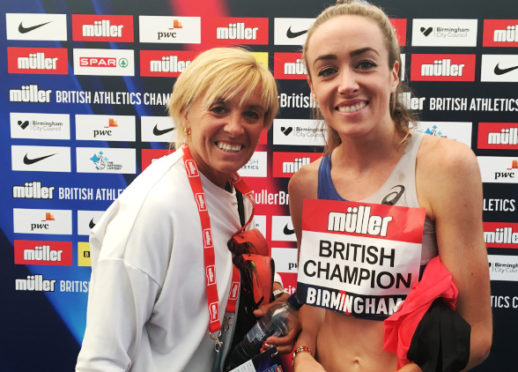 Eilish McColgan didn't become an athlete because of her mum.
But Liz McColgan did become a coach because of her daughter.
That there would be a burning desire to follow in the footsteps of a track and road legend from as early as Eilish could put one foot in front of the other would be an easy mistake to make.
When she eventually started taking an interest in running, however, it was as a result of discovering the sport for herself, rather than wanting to emulate the gold medals and records of Dundee's most famous sportswoman.
Then, only when Eilish was truly hooked did Liz decide to become her mentor.
"Growing up my parents sheltered me a bit from the fact they were professional athletes," said the two-time Olympian.
"They wanted to ensure that I got into the sport for the right reasons.
"I had no real awareness of what my mum had achieved or even that my dad (Peter McColgan) was a professional athlete. I think I assumed that everyone's parents were always out running.
"I was confused when other kids crowded around my mum and asked for autographs. She never had the medals out on display in the house and we never watched her races back on video. It was from me that I came into running, rather than them."
Choosing athletics was left to Eilish. Choosing an athletics club wasn't, though.
"I was in P6 or P7 when my teacher put me in for a cross country race," the 29-year-old recalled. "I think simply because of my name.
"I loved it. I was maybe fifth or something like that and there was someone there from the local club, which was Arbroath, and they were 'scouting' the top six girls and boys. Myself and a pal, Ian, were asked to come along
"I was excited and told my mum. She just said: 'You can start at a running club if you want, but it will be Dundee Hawkhill Harriers – because that's my club'.
"My mum said that if I stuck at it for x number of months, then she would come along too, and coach me. My pal Ian quit after a few weeks but I enjoyed it, served my probation and mum started coaching.
"I don't think she had really thought about coaching prior to that. But it took off and she had a training group and became a successful coach for the Hawks."
World champion Liz's faith that the dedication and drive to be a professional athlete has to come from within never wavered. And it is faith that has been rewarded.
"It's no secret I enjoyed university life," said Eilish, a European silver medallist.
"I probably partied more and harder than I should as an athlete. But I don't really regret it. I got it out my system so to speak. I had some great times, made some great memories, made some not so great memories.
"I still enjoyed the physical part of training – even turning up with the hangover I would push myself. But when I made the decision at the start of 2011, I stopped partying right away and trained harder.
"I went from someone who was out drinking five nights a week, not sleeping and eating a kebab at 4am to someone who was teetotal and didn't go out.
"Mum and me have had lots of ups and downs, like anyone does with a parent.
"She wasn't happy with my lifestyle when I was a student but she didn't step in. She accepted that if I was serious about running I would come back to it. But she was always there, always at the track.
"So the decision, when it was taken, to come back to the sport was taken by me. And when I did commit myself fully, I started to have a far greater appreciation of the work and sacrifices she had put in to be one of the best athletes in the world."
Eilidh Doyle targets historic Olympic Games hat-trick which has now become a more realistic goal