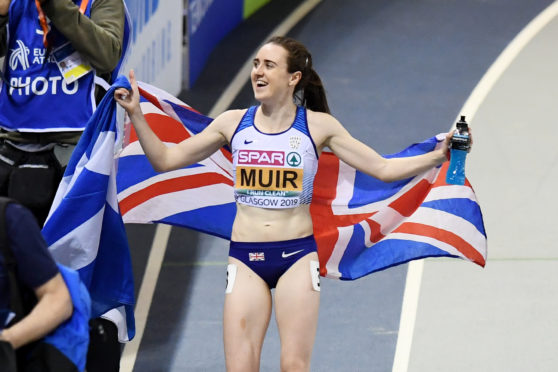 Laura Muir admits she is running free without the weight of chasing medals on her shoulders as she bids for another record in Poland tonight.
After capturing the British 1000 metres mark in some style in Monaco last weekend, the Dundee Hawkhill Harrier drops down to 800m at the Szewińskiej Memorial Meeting in Bydgoszcz for a clash with Poland's Sofia Ennaoui.
Given the 27-year-old's form, a tilt at surpassing another of Kelly Holmes' UK benchmarks could be within reach with Lynsey Sharp's Scottish lead of 1:57.69 also in the realms of possibility.
And Muir senses the lack of relentless focus on hunting gold in the absence of the Tokyo Olympics is working to her advantage during this curtailed campaign.
"There are less races, and we don't have the major championships," she said. "But it's quite nice in a way that we don't have a major championships looming over us. We can just go out and stay relaxed and try different things in races. And just enjoy it, and run well."
Jemma Reekie, whose fourth place in Monaco in a British Under-23 best once again underlined her astonishing ascent into the elite, looks in prime shape to break the four-minute barrier for the first time in the 1500m, with the field also including Scottish prospect Erin Wallace.
While a fourth member of Andy Young's Glasgow-based training group, Perth Strathtay Harriers' Sol Sweeney, goes in the men's 2000m.
Meanwhile Guy Learmonth believes Stephen Maguire is the right man to lead the British team into the Tokyo Olympics, even if his exit would be a major blow to Scottish Athletics.
The Borderer belatedly gets his summer under way in the men's 800 metres in Bydgoszcz.
However, the sport is set for a radical shake-up with Maguire and former Paralympic supremo Peter Eriksson understood to represent the two survivors in the race to become UK Athletics new head coach – with final interviews due to take place next week.
And Learmonth believes the Northern Irishman's breadth of vision, attention to detail and his people skills in assuaging the delicate egos of athletes should make him a shoo-in for the role.
"I love Stephen," he said. "He's a great manager. He has a different vision to everyone else. You can talk to certain coaches and they'll say something isn't the right decision for this athlete.
"He'll see it from a completely different point of view. He gets it – and I really hope he gets the job. It would be great if he could stay at Scottish Athletics. But he would do an incredible job for UKA."
Learmonth faces reigning European champion Adam Kszczot on his home turf in Poland on his summer debut.
Yet the 28-year-old is already in catch-up mode after five Britons broke the 1:45 barrier within the past week, led by a UK junior record from prodigious 18-year-old Max Burgin. That has certainly turned up the heat, the Scot admits.
But he said: "It's no different to any other year. We always have ten guys on 1:45. It's good people have come out of lockdown and gone fast straight away. It just means they've been working hard.
"But it shows you can't take the foot off the gas or you should expect to fall behind.
"And it's good to have that healthy competition. I'm just ready to come out lay my markers down and get some personal bests that leave everyone else behind me. And I can honestly say I've never been so ready to race."