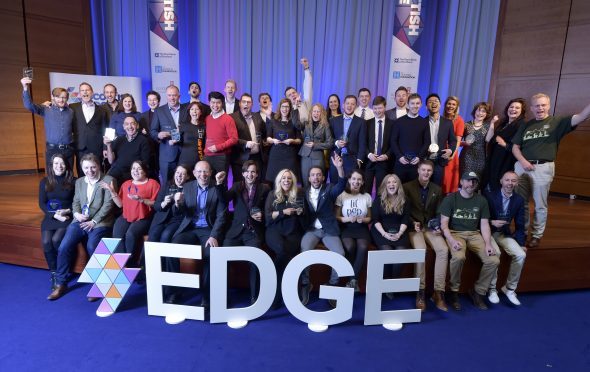 Innovative Tayside and Fife companies were among the big winners as more than £1.1 million of funding was awarded to high growth potential Scottish firms at a major pitching competition.
Popular Angus based spirits producer The Gin Bothy walked away with £70,000 – one of the highest single funding awards – after impressing the expert judging panel at  the Scottish EDGE 11 finals at RBS Gogarburn.
The aim of Scottish EDGE is to identify  up and coming entrepreneurs and companies and provide them with the cash and expert mentoring support to accelerate their business growth.
Each of the funding awards are made up of  a 40% grant and 60% repayable loan. That cash is then recycled into the next round of the competition to help other entrepreneurs on their growth journey.
The Gin Bothy's Kim Cameron took to Twitter to say "Watch this space!" after her win, adding her thanks for "when it all comes together and you realise that someone 'gets you'".
In addition to the Gin Bothy, several other local companies were successful in their pitches.
Bella and Duke, a Perthshire-based provider of bespoke pet food packages, took home £50,000 while BUBLBag of Fife scooped £25,000 to develop its inflatable packaging products range.
Unsweetened drinks brand Seltza – which is also based in Fife – took home £10,000 as one of the Wild Card EDGE winners, while Dundee online recruitment service Talbase was awarded £8,000 in the same category.
Scottish EDGE CEO, Evelyn McDonald said: "The calibre of businesses we've seen pitching today has been exceptional and our judges had their work cut out deciding who should be awarded funding.
"We received a total of 242 applications for Scottish EDGE round eleven from around the country, representing businesses in every sector.
"The 22 businesses who pitched today demonstrated a commitment and intense desire to grow their business and create jobs and wealth for Scotland and I believe many will achieve this."
Entrepreneur Sir Tom Hunter, a long-time supporter of  Scottish EDGE, said: "I love seeing entrepreneurs pitch an idea which they are incredibly passionate about, and attending the Scottish EDGE final is a real highlight for me for that very reason.
"Through EDGE we're seeing a renewed spirit of entrepreneurship developing in Scotland, heeding our nation's proud tradition as innovators. This is not just about money however, all entrants, win or lose, receive support packages to help them on their way and come back again to EDGE when they are ready to do so."
Among the judging panel at the awards was Dundee-based Insights entrepreneur Andy Lothian and Rob Jones of egaming 'unicorn' business FanDuel.