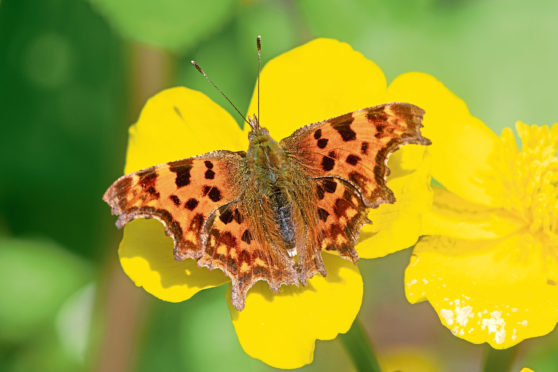 Comma caterpillars feed on elm, nettles and hops. The adults hibernate and emerge in early spring, producing a second generation from July to early October.
A flicker of orange across the garden lawn; a butterfly, but it is too bright to be a peacock and flies more purposefully than a small tortoiseshell, two of our commoner species.
It flutters up and alights on a cotoneaster bush, its scalloped wings opening and shutting with flashes of patterned tangerine. It is a comma butterfly, an unusual species with ragged wing edges and a little white comma mark on the dark underwings, which gives the creature its name.
When the wings open this is an insect of stunning colour, but on closure the butterfly almost disappears, the jagged outline of the wings resembling a dull withered leaf amidst the tangle of the cotoneaster. Indeed, the comma caterpillar has taken such camouflage abilities to an even higher level by looking similar to a bird dropping. Is this by chance, or has the caterpillar deliberately evolved to look like bird poo? And if so, how on earth did it happen? I'll never know, but nature is just wonderful, so incredible in shape, diversity and form.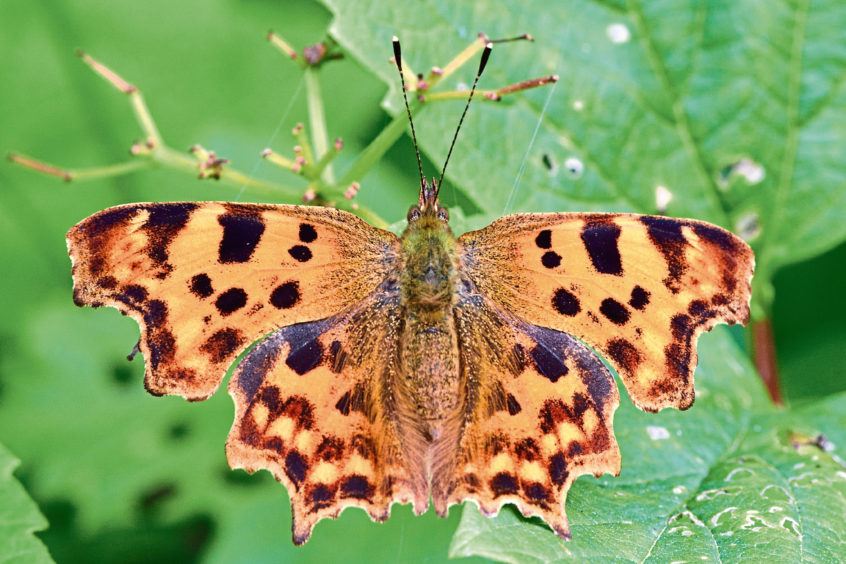 Another remarkable fact is that this garden comma is a relatively new arrival to Scotland, a climate change incomer that has moved north in recent times. Once widespread, the comma population was in freefall for much of the 19th and 20th centuries, becoming restricted to south-east England and the Welsh border counties.
But in an astonishing revival, numbers started to increase, and the butterfly began spreading north, having adopted a preference to nettles as the main food plant for its caterpillars. A few years ago, in my home area in the shadow of the Ochils, it would have been unthinkable to see commas; now they are frequent.
There are other wonderful butterflies out on the wing at the moment. Down by my local river, orange-tip butterflies flit and float above the flower-patterned meadows. Pastel-purple cuckooflower is one of their favourite food plants, which abounds by the damper flushes. It is only the males that have the vibrant orange wing tips, the females look similar to small white butterflies.
Orange-tips are mighty frustrating to photograph, for they seem to be continually on the wing, never coming down to rest. Just when you think one is about to alight on a plant, up and away it goes again.
In the Ochils, when taking a long circuit of the hilltops above Glen Sherup last week, I found a green hairstreak butterfly by a forest edge. This is such an exquisite little creature, which always sits with its bright green wings closed, making it difficult to spot. Peacock butterflies were abundant, too, even on the high ground.
Butterflies are indicator species, and where they are plentiful, then the rest of the environment is in decent health, too. But as important as good habitat is the connectivity between such places, thus ensuring that individual butterfly populations do not become isolated and providing the opportunity for them to colonise new areas.