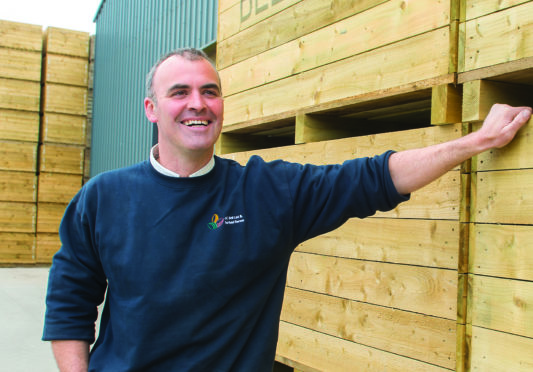 A good rotation and plenty of organic manuring at his Upper Magus Farm are cited as key to Strathkinness farmer Dave Bell's success in growing the highest-yielding winter cereal crop in Scotland this year.
Mr Bell also credits the impact of a kind autumn and winter which gave good crop establishment, rooting and tillering to help secure his win in the annual Yield Enhancement Network (YEN) competition with an impressive 14.3 t/ha from a 2ha block in a field of KWS Orwell grown as a second cereal.
Alongside his agronomist, Iain Anderson, he also went on to out-perform most entries from across the UK to come ninth overall out of 250 cereal field entries.
"Even though the dull summer limited crop potential, it was definitely a good season for cereals," said Mr Bell.
"Our barley responded particularly well to the more intensive management we gave it, staying very green throughout and showing no signs of stress at any stage. It was painfully slow to ripen, though.
"YEN is helping us better understand what winter barley needs and just what it can do for us if we manage it more like wheat. Our aim now is to apply the lessons we've learnt from the trial field across the whole farm so we can make the most of what has tended to be rather a Cinderella crop in many cases."
A lack of sunshine was a concern through the spring and summer, but the bonus was a generally good grain set and gentle, prolonged ripening as the crop stayed very green well into July.
Mr Anderson, an agronomist at Agrii Tayforth, pointed out the very wet weather at the end of July and into early August delayed harvesting.
"Even with the robust PGR programme we employed, we had quite a bit of brackling by harvest," he said. Thank heavens we went with one of the shortest and strongest stemmed varieties on the RL and the dry spring didn't tempt us to rein back on our spraying.
"The results also confirm the value of our decision to go for a five rather than traditional three spray programme, starting ahead of T0 and ending at T3. Splitting each of the normal T0 and T2 sprays into two applications allowed us to simplify our tank mixes to minimise stress on the crop. At the same time, it enabled us to optimise the timing of our PGRs, fungicides and foliar nutrition and match them to the needs of the crop at each stage."
The duo's performance and the yield's proximity to the world field yield record of 13.8 t/ha held by New Zealand grower Warren Darling has now tempted them to raise the bar still higher.
Mr Bell said: "Who knows, maybe Iain and I will be able to have a crack at the world record at some stage. It would certainly be good to bring the title back home."
nnicolson@thecourier.co.uk