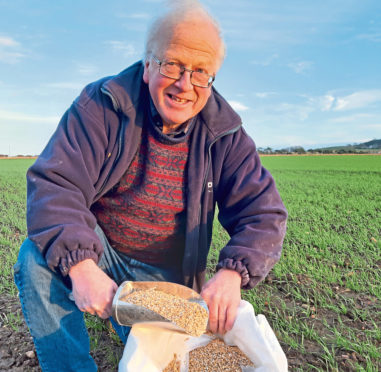 When the maltsters unexpectedly rejected Angus McDowall's trailer loads of contracted quality barley back in 2006 they did him a huge favour.
Although tests by other maltsters subsequently accepted his barley was perfectly suitable for malting, that 2006 harvest where grain was plentiful and prices went through the floor lingers long in his memory.
While it wasn't a happy situation at the time, it was the jolt he needed to look at other markets for his grain.
His adventurous and ambitious spirit means he is now in the enviable position of being able to add value to every tonne of wheat and barley he grows by processing it all at home on his 550-acre arable farm in East Lothian.
It all began with the unlikely news that a small, half-built malting vessel was lying in Prestonpans, just seven miles along the road. It had been built as a prototype and needed radical alteration, but Angus jumped at the chance of trying something new and no longer being in thrall to global markets.
"We had the welding expertise on the farm at the time so we got the vessel home and built it on location," he said.
"But that was just the beginning. It was a steep learning curve and, because the malting is all done in the one vessel, the process takes much longer than when it's done on a large scale with several tanks.
"The process is the same, though. You put in the barley, add warm water, go through all the steps, drain it off and germinate it for five days while turning it over and blowing air through it to keep it cool."
Angus didn't advertise his Mungoswells malt, but demand grew by word of mouth and he has built up to producing two tonnes of malt a week.
"Distillers and brewers are interested in buying artisan malt and interest is growing all the time. We have customers as far afield as Tayport, Loanhead, Larbert, Edinburgh and the Lake District," he said.
Until it is crushed the malt can be stored for at least 12 months, and once crushed it is stored in 25kg bags and has a shelf life of around three months.
It was the quest for a way to crush the malt which led to his second, even more unlikely, on-farm investment.
"We could have used a traditional grain bruiser but it was noisy, dusty and shook the whole building, and it's not the sort of thing you want in a food building, anyway," he said.
"So I went looking for something better to do the job, and a flour-milling friend suggested a mobile Swiss Army flour mill. I couldn't believe such a thing existed, but I eventually tracked one down. It was built in 1977 by Buhler, the Rolls-Royce of flour mill manufacturers, and was the real Mackay.
"It came complete with a trailer, spares and an awning, and I don't think it had ever been used. It was in pristine condition."
The mill not only crushed the barley, it also opened up exciting potential for the farm's wheat crop, and Angus immediately set about learning how to mill flour.
"That was 2007, and we have steadily built up to the point where we're milling wheat four days a week and crushing malt maybe one day a fortnight," he said.
Angus mills organic and conventional flour and his markets are dotted across the central belt.
He added: "We're now sending two pallets a week to a bakery in Glasgow, and we supply Green City Wholefoods wholesalers. During the Edinburgh Festival we have to go in with three extra loads and sales are growing all the time."
However, Angus the miller and maltster is still a full-time farmer who has to plan his rotations to cater for his diversifications. That means trying to predict market demand 18 months down the line.
He first converted land to organic status in 1999 so the area of conventional land at Mungoswells is diminishing all the time, but his organic milling requirements now outstrip grain wheat production.
"By this spring half our acreage will be organic and we're growing around 80% of our organic wheat requirements and it's very difficult to get good quality milling wheat in Britain as most of the varieties aren't very successful," he said.
He also needs to grow enough malting barley to keep his maltings operational.
"We used to grow a lot of malting barley but we're now only growing enough barley for ourselves because if we grow more, we don't have enough room for wheat, and we need more every year for the mill.
"We also do a field swap with a neighbour. He gets a clean field for tatties and we get a field which has hopefully grown sprouts which leaves a lot of nitrogen in the ground.
"We also grow 80-90 acres of straight clover, a mix of red and white to turn back into the ground."
It is all a careful balancing act, and a far cry from the days when Mungoswells simply had to focus on producing quality barley for the maltsters.
Angus still appears to be surprised by his success and how much he enjoys his ventures.
"Back in 2006 we were a 550-acre farm on some of the best ground in East Lothian and struggling to justify a full-time employee, but now I'm employing five people and we're all working hard.
"None of it was planned; it was just luck, helped possibly by the arrival of several cookery and bakery programmes which got people enthusiastic about artisanal produce.
"I still love farming but would never have conceived a farmer could run a maltings or a mill. It's great fun, a fantastic outcome."
nnicolson@thecourier.co.uk