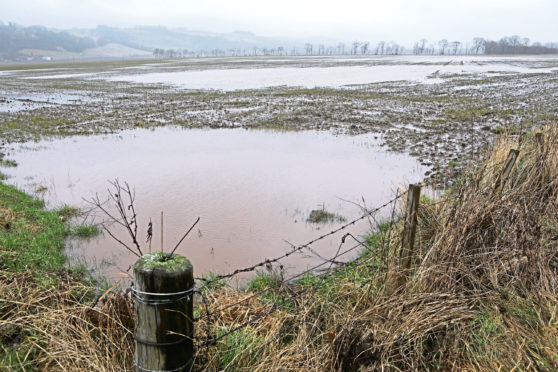 Weeks of relentless rain have taken a toll on low-lying arable farmland across Perthshire and parts of Fife, and arable growers are becoming increasingly concerned about the implications for the 2020 harvest.
Some fields which were sown in winter cereals last autumn have been under water for weeks, and farmers say hundreds of acres earmarked for spring barley crops will take a lot of drying out before the land is able to carry a plough or sowing machinery.
The scene across the Carse of Gowrie is grim after 105mm of rain fell in the last seven days at a time when the ground was already waterlogged.
Some growers say it's the worst damage they've seen in the area in decades.
NFU Scotland's (NFUS) cereals committee chairman, Willie Thomson, who grows 420 acres of spring and winter crops, voiced the frustration of fellow members whose land is out of bounds for the foreseeable future.
"In our area of East Lothian we only got 70-80% of our planned acreage in the ground in the autumn, so not only will we have a horrendous amount of work to cope with this spring, we're looking at the possibility of a serious glut of spring barley because that will be the only option left for many farmers, and the crops that are already in the ground are looking sorry for themselves," he said.
"For people in Nitrate-Vulnerable Zones, the close period ended on February 15 and we were looking forward to the chance to get on the land because crops are needing fertiliser.
"No one is feeling optimistic at the moment but it's just February, so there's still time."
North of the Tay, the situation looks less bleak because better sowing conditions last autumn meant the bulk of winter crops are in the ground.
Laurencekirk farmer Andrew Moir said while everything locally was "wet and a mess", the situation wasn't as bad as in Perthshire and Fife.
Meanwhile, writing on his NFUS blog, Aberfeldy farmer and union vice-president Martin Kennedy said farmers and crofters could offer practical and cost-effective solutions to the problems created by climate change.
"Gravel and silt removal is not necessarily the answer to preventing all floods, but having seen close up how rivers like the Tay work in high water, and looking at thousands of tons of deposits now sitting higher than was ever allowed in the past by those who managed our watercourses, I'm sure those who manage the land can help the situation," he said.
Farmers who are concerned that they will not be able to comply with greening regulations because of flooding impacts are advised to contact their local Rural Payments & Inspections Directorate office within 15 days of the flooding.
For advice on how to spread slurry safely, growers are encouraged to call Sepa on 03000 996699.
nnicolson@thecourier.co.uk