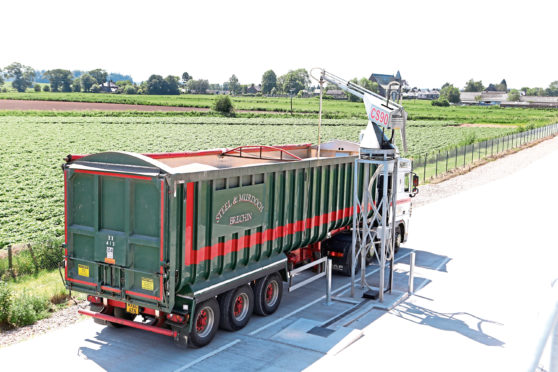 Electronic crop passports will be piloted in Scotland this summer when cereals assurance body Scottish Quality Crops (SQC) forges ahead with a model based on cattle EID.
Three years after the idea was mooted then shelved by levy body ADHB, SQC are now "well down the road" of developing a unique system which will be owned by its 3,300 members, albeit one which will interact with any other electronic scheme that is devised elsewhere in the country.
The progressive organisation believes electronic passports will prove to be a significant benefit to primary producers because they will provide immediate feedback on individual loads as soon as they are on the weighbridge, and it is expected the system will cost no more than paper passports.
SQC chairman Andrew Moir said: "We're looking at an independent Scottish passport system and are in consultation with the farmers' union which is broadly supportive of what we want to do because the data that's collected will be owned by individual farmers and not some government conglomerate.
"Key information on moisture, nitrogen, screenings and weights will be relayed to farmers immediately and if something is wrong they'll be able to decide at once if they want to stop the next four or five trailer loads from leaving the farm for the same destination.
"Rather than four lorries being sent back home it could mean a huge saving to farmers.
"We need to step up into the 21st Century, we can't carry on working the same way just because 'that's the way it's always been done'."
When AHDB investigated electronic passports several years ago, the idea was dropped over the industry's fears about losing precious data.
SQC executive director Alistair Ewan said farmers' desire to protect their data and not have it owned and shared by large governmental or commercial organisations was well understood, and that is why SQC is working with Scottish farm co-operative group SAOS to develop the electronic programme.
"Farmers are already giving away too much data and it can be dangerous in the wrong hands," he said.
"We want data to be owned by Scottish agriculture and we're just at the beginning of the journey, but working very closely with SAOS. It is still being developed, but we are enthusiastic to make it happen."
SQC believe their electronic passports won't be rolled out until 2021 at the earliest, but the button has already been pressed on running pilots as early as this summer.
Andrew Moir said: "We will be meeting with significant stakeholders in the late spring to get the scheme up and running, and hopefully we'll get the pilots going with some loads before harvest as grain is moving around all the time. We have been transparent with colleagues in the south who are now reviewing their position."
nnicolson@thecourier.co.uk