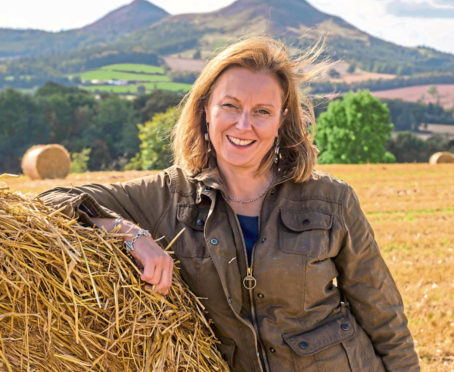 Rachael Hamilton says she feels she has "come home to roost", an appropriate phrase perhaps for the Scottish Conservatives' new shadow rural economy secretary.
More significantly for farmers the Borders MSP, who last week replaced North East MSP and farmer Peter Chapman in the role, is an experienced agronomist and former quality assurance controller at Scotbeef, and evidently has a broad understanding of Scottish agriculture.
She admits she is still getting to grips with her portfolio.
However, while she is supportive of the industry and publicly backed NFU Scotland's call this week for extra Scottish Government funding to help fight climate change, she believes the union's request for an additional £100 million per annum is "perhaps a step too far".
"I don't believe the government's £40m Agricultural Transformation Fund will be enough to meet the challenges and deliver transformational changes," she said.
"But at first glance an extra £60m per year is quite a big step."
She suggests the industry could meet some climate change challenges by changing practices or adopting new technology, and says she would like to see a separate fund for capital investment for new equipment to help producers "farm more efficiently, be more productive and ultimately to increase farm income".
Meanwhile, as trade talks start to dominate Westminster's political landscape, Ms Hamilton insists she would "never buy anything other than a British chicken" yet stops short of condemning all food imports which are not produced to equivalent standards in the UK.
She said: "We want to uphold high environmental and food safety and animal welfare standards.
"We are in an infantile stage of negotiations and have started in a very raw state, but building on that I think the government will stand firm in trade negotiations and ensure future trade deals will live up to the expectations of farmers and consumers across the UK.
"However, consumers expect choice as well, and to be able to shop outwith seasons. Consumers are demanding, so it's about getting that balance between high-standard food production and the expectations of consumers."
Tourism is linked to the rural economy portfolio, and that too is a sector Ms Hamilton understands as she and her husband run the Buccleuch Arms Hotel in Melrose and buy ingredients for their bar and bistro from local producers.
Her tourism ambitions for Scotland include replicating France and Italy's booming agritourism sector.
"However, we need to have a proper definition of agritourism and a standardisation scheme here, and I'd like to see a qualification in agritourism," she said.
Rachael Hamilton insists she "couldn't wish to be in a more progressive portfolio" and, while her days of walking arable crops and developing quality assurance for cattle and sheep may be a distant memory, her plan is to visit farms and crofts across the country to refresh her knowledge and give her the insight to do her latest job.
nnicolson@thecourier.co.uk