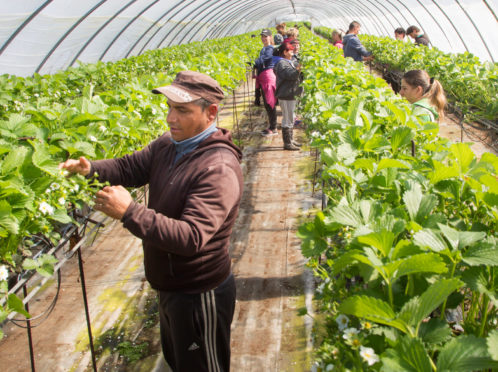 As Scottish strawberries become a familiar sight on supermarket shelves and the peak of the soft fruit season looms closer, the magnitude of the labour crisis facing the industry grows more daunting by the day.
Only a fraction of the regular east European workforce required by growers is currently in the country and, while Scotland's land army may be mobilising, it's a long way off being battle ready.
East Anglian salad growers hit the headlines this week when they took matters into their own hands by chartering flights for Romanian workers, and more are expected to arrive at Stansted in the coming days.
Closer to home, the industry is hoping regular flights will have resumed by the time their most experienced workers are needed in force, but they haven't ruled out chartering, so long as quarantine conditions can be met.
Meanwhile, farmers here are walking a tricky tightrope as they await confirmation their regular workers will be allowed to travel while they also continue to appeal for unemployed locals to sign up for summer jobs – even though they have little confidence that they can rely on them to put up with the demands of hot, tiring, dextrous work.
It's also inevitable that furloughed staff will leave as soon as their day jobs resume, most likely just as the fruit season peaks.
There's nothing wrong with taking a dual approach, but it's essential farmers reply to every single job application they have received, even if most turn out to be unsuitable, because the industry can't be seen to plead for help then ignore offers while they hold out for other solutions.
Besides, a trained and willing local workforce would be an invaluable resource for years to come.
It's too early to predict the long-term fallout from this crisis, but we're already seeing tabloids who have previously castigated eastern Europeans for stealing British jobs and hounded them for being thieves and criminals, now rightly heralding them as "critically important".
Wimbledon may have gone, but the prospect of a summer without strawberries and cream is clearly sending a ripple of alarm through the home counties.
We can only hope that when the debate over points-based immigration next raises its ugly head – and there's no doubt it will – agricultural workers will never again be described as unskilled.
nnicolson@thecourier.co.uk