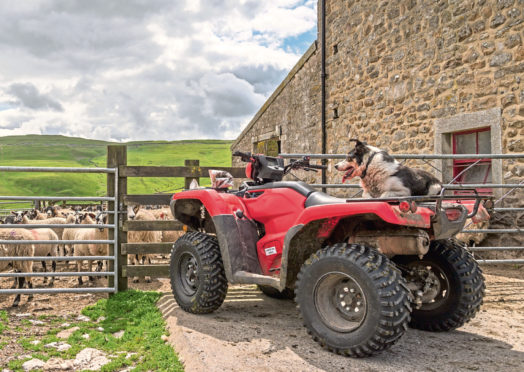 The cost of rural crime in Scotland rose by 44% to £2.3 million last year, according to NFU Mutual.
Figures from the rural insurer reveal a rise in the cost of rural crime in every region and nation in the UK last year as criminal gangs targeted expensive tractors, quad bikes and large numbers of livestock.
The biggest percentage increase was seen in Scotland, although its rural crime cost remains below the UK average.
The insurer said cases of sheep rustling rose by almost 15% year-on-year at the height of the coronavirus pandemic, and there was a spike in reports of livestock – mainly sheep and lambs – being stolen in April.
Farmers also experienced an "influx" of walkers on their land, and reports of dog attacks on farm animals rose during the outbreak, the insurer said.
It also warned of fears that rural crime could escalate as the economic impact of the crisis hits.
Another "major concern" is the theft of tractor GPS equipment typically costing between £8,000 and £10,000, NFU Mutual said, adding that this had become "a highly prized item on the shopping lists of rural thieves, particularly during the Covid-19 lockdown when smaller, high-value items appear to have been targeted to meet demand overseas".
The news comes as the company published an annual report indicating the cost of rural crime across the UK rose almost 9% in 12 months to £54 million last year, its highest level for eight years.
Sharp rises for a second year running in thefts of agricultural vehicles – up almost 25% to £9.3m – were driven by organised criminal gangs targeting expensive tractors and quad bikes.
Demand for expensive farm kit overseas was also fuelling the rise.
Meanwhile, the cost of livestock theft rose 9% last year to £3m, according to the findings.
"We're very concerned that rural crime is taking an increasing toll on the Scottish countryside at a time when Covid-19 is putting huge extra pressure on everyone's lives and farmers are working flat out to feed the nation," said Mark McBrearty, NFU Mutual regional manager for Scotland.
"There's no doubt that very determined organised criminal gangs are targeting Scotland's countryside and without the Scottish Partnership Against Rural Crime (Sparc) initiative we would be seeing even higher costs.
"Latest figures from SPARC show that £329,000 of stolen machinery was recovered by Police Scotland between April and June 2020 thanks to shared intelligence and greater use of tracking devices."
He said although theft claims for the first half of this year were down, the insurer was now seeing signs that thieves are becoming more active again.