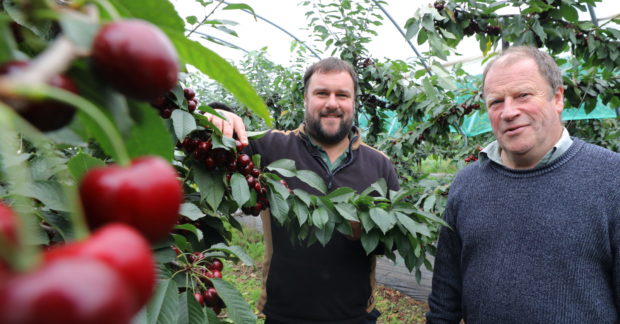 Exotic locations such as Dubai and Mumbai may be forbidden fruit this summer – but they are the destinations for some of Scotland's sweetest cherries.
At Wester Essendy farm, in the heart of Blairgowrie's berry fields, the most perfect stone fruit is being selected, quality checked by an optical grader then flown with the greatest of care to discerning customers around the world.
For fruit growers Matt and Euan McIntyre, who exported a tonne of cherries to Dubai this week, it marks the pinnacle of their short season, and generates a welcome premium for the investment they've made in a relatively new and capital-intensive enterprise.
"We got the opportunity to export, and it might not happen every year," said Matt.
"Berry Gardens, our growers marketing group, already export strawberries and rasps, and have a full-time manager who organises the flights.
"We just need to pack and grade to the required quality and they organise everything. It's more complicated than selling to UK retailers which we're committed to, as they've supported us through the enterprise, but this week has been a test of what we can do."
While raspberries and strawberries are synonymous with Tayside, it is only a decade since Berry Gardens encouraged a handful of Scottish fruit growers to diversify into cherries. After a century of growing rasps at Wester Essendy, the McIntyre family took the plunge and now have 15ha of cherry trees in polytunnels.
"We planted the first ones in 2013, and had some success which encouraged us to plant more, so we now have a lot of very young trees which can take a few years to become productive," said Matt.
"But this year, there was great pollination, so it has been a good season. The advantage of this part of the world is that cherries have a long ripening time while they size up and build up sugars, which means they're very sweet."
Late August and early September is the height of the Scottish cherry season, and the fruit hits the market just as key growing areas in Herefordshire, Canada and North-west America dry up. That means demand for the Scottish fruit is high – a stark contrast to the fluctuating market for strawberries and rasps which can mean fruit going to waste.
Matt said: "There's a gap in the market, and there's not a 12-month international supply of cherries, as there is with crops such as blueberries. Profits for soft fruit are falling all the time and it's getting harder to compete, so the drive towards cherries – and particularly late cropping varieties such as Sweetheart and Sentenial – is obvious."
nnicolson@thecourier.co.uk