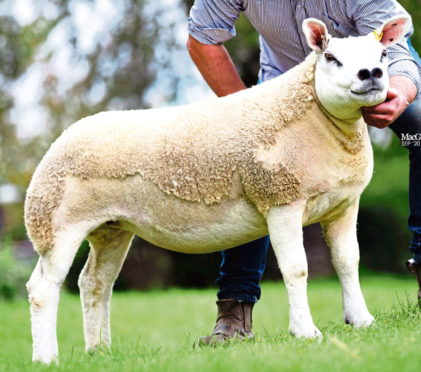 Just weeks after a Texel ram lamb set a new world record for the most expensive sheep ever sold, another Texel record was set when a gimmer sold for 50,000gn.
The new female record price, set at the Solway & Tyne Texel Breeders Club sale at Carlisle, was paid for a gimmer from Welsh breeder Edward Pugh's Glanllyn flock.
By the 6,200gn Eden Valley Wiz Kid, and out of a dam by the 145,000gn Knap Vicious Sid, she sold in a two-way split to Perthshire breeder Robert Cockburn for his Knap flock at Errol and Messrs Boden & Davies for their Sportsmans flock at Mellor, Cheshire.
In all, the Glanllyn flock achieved an average of £13,300 for 12 gimmers and two lots sold for 18,000gn.
The first of those, selling to the Sportsmans flock, was another Wiz Kid daughter.
The other, selling in a two-way split to the north-east, was a daughter of the 40,000gn Garngour Alabama.
She sold to the Innes family for their Strathbogie flock at Dunscroft, Huntly, and Kenny Pratt for his Hilltop flock at Oldtown Farm, Peterculter.
Meanwhile, the main club sale topped at 48,000gn for February-born ram lamb Sportsmans Dare Devil from Messrs Boden & Davies.
By the 65,000gn Garngour Craftsman, and out of a dam by Garngour Alabama, he sold to Messrs Evans, Llanrhaedr, Wales.
Next best at 38,000gn was February-born ram lamb Castlecairn Doodlebug from Leggars Ltd, Kelso.
By Hayount Crackerjack, he sold jointly to Messrs Boden & Davies and Northern Ireland breeder Gary Beacom for his Lakeview flock.
Messrs Boden & Davies, who were responsible for the 350,000gn record breaker ram lamb last month, also paid 32,000gn for March-born ram lamb Garngour Detroit.
By Procters Chumba Wumba, he was put forward by J & H Clark, North Garngour, Lanark.
In total 302 ram lambs sold to average £1,420.67.