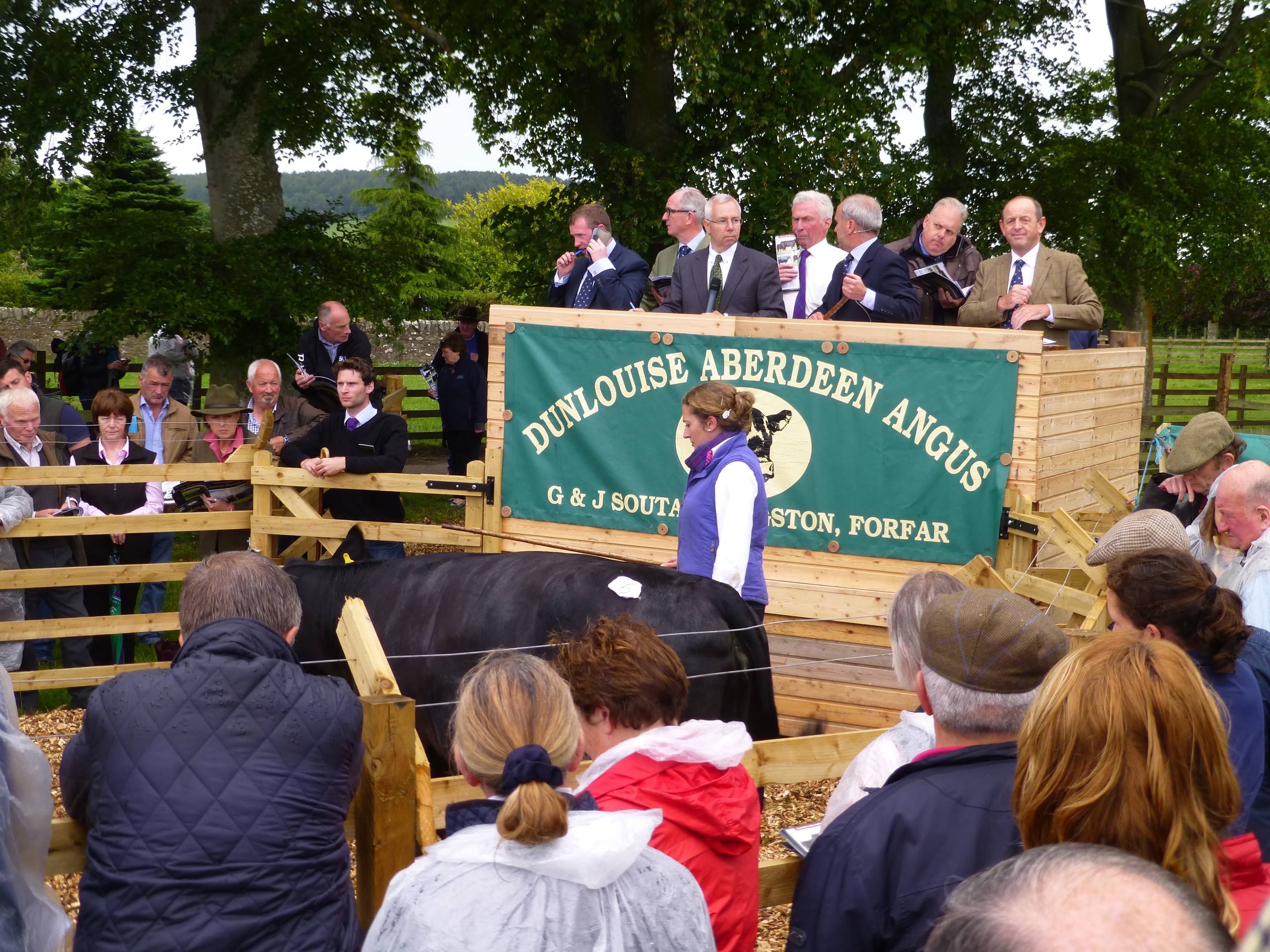 Aberdeen-Angus breeders travelled from across the globe  to compete for a slice of rare Aberdeen-Angus heritage in a green Forfar field.
Breeders from Uruguay, Texas, Montana and Australia joined hundreds of locals gathered round a tiny wooden ring to lead the bidding for 56 lots of small native females, bulls and embryos from Geordie Soutar's Dunlouise herd at Kingston Farm.
Prices reached a high of 16,000gns for Dunlousie Newman, a 14-month-old bull who was bought by Harrison O'Connor from Saddle Butte Ranch, Geyser in Montana, although live animal export restrictions mean the sire will never leave Scotland. The same was true of many of the females which were bought to live and breed in Scotland then have their embryos exported around the world.
Mr O'Connor also two cows and calves, including Dunlouise Rose for 7000gns.
After the sale ended he said he couldn't believe that the native bloodlines weren't more appreciated in Scotland.
"I went to the Highland Show to look at the Aberdeen-Angus and felt terrible for the Scots," he said.
"Breeders here haven't respected the origins of the breed, and they've spoiled it. They'll regret what they've lost. Animals like the type we're seeing sold here today deserve more attention than they've been getting in this country."
Mr O'Connor said he would breed the cow and bulls to create embryos then import them to the United States.
He added: "It's not ideal. I'd love to have the bull grazing on my pasture at home, of course, but this is the  next best thing."
A sale highlight came near the end when Bill and Yvonne Woods from Woodstone Angus, New Ulm, Texas spent 39,000gns on six frozen embryos from Dunlouise Red Nessie. The under bidder was an Australian rancher from Queensland who was reportedly on the phone from his beach house.
The Woods also bought two embryos at 3700gns apiece.
More offers came down the line from across the United States at a sale which one United Auctions spokesman said had attracted more phone bids than a Sotheby's art auction.
Australian breeders Geoff and Joy Howley of Alto Angus at Caramut, Victoria bought 11 embryos and said they believed native Angus cattle would grow in popularity.
"This has been an exceptional opportunity for us to buy these genetics," said Mrs Howley.
"We're seeing a big change in the market to grass fed beef and premium beef in Australia, and these natives convert grass more efficiently than modern Angus. There has also been a shift in understanding in Australia that profit is more important than weight gain when you're producing beef."
The Bontharambo Aberdeen Angus stud in Wangaratta, Victoria paid  9000gns jointly with Woodside Angus for the 15-month-old bull, Dunlouise Curve Bender  and, more locally,  Ken and Eva Brown from Craigomill, Kinross paid 7000gns for a cow.
Some cattle were bought for export to France and Sebastian Olaso Aguirre from Montevideo, Uruguay said he had already bought several Dunlouise cattle privately because their moderate size suited his type of land.
"For us the American and Canadian cattle are too big and require too much food," he said.
"We'll certainly be back to buy more genetics in future."
Geordie Soutar, the man who had the foresight to preserve the rare remnants of native Angus and forge links with international buyers was thrilled with the success of his trade.