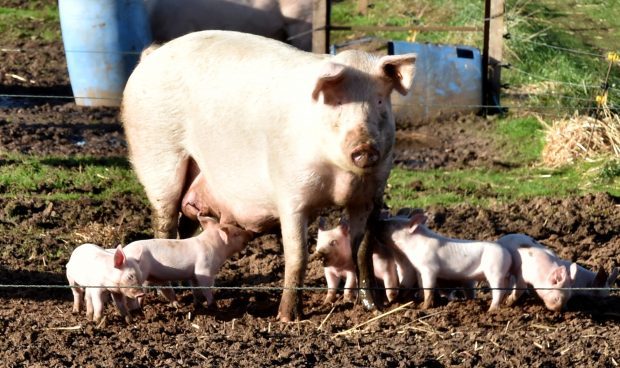 Farmers, crofters and pig keepers have been reminded not to feed kitchen scraps to pigs.
The warning from the Scottish Government comes in the wake of the risk level for African Swine Fever entering the UK being raised following spread of the infection in eastern and central Europe.
Pig keepers have been reminded that feeding kitchen scraps to their stock could lead to outbreaks of animal disease, and that it is illegal to feed catering waste of any description, or domestic food waste, to farm animals and pigs kept as pets.
Although there has never been a case of African swine fever in the UK and the disease does not affect humans, it is potentially fatal to pigs.
Scotland's chief veterinary officer, Sheila Voas, said it was essential that everyone played their part in helping to keep the disease out of the UK.
"Viruses can survive in even cooked meat, which is why it is illegal to feed food waste to animals," she added.
"I would urge all pig keepers, large or small, to remind themselves of the rules and ensure that they are sourcing feed for their pigs in a safe and responsible manner. Other simple steps, such as limiting movements of people and vehicles in pig areas, checking pigs regularly and maintaining high standards of cleanliness are all also essential."
She said some of the outbreaks of African swine fever in Europe had been caused by wild boar or domestic pigs consuming contaminated pork or pork products
Ms Voas also warned that the farming sector was at risk of other diseases, such as Foot and Mouth disease, if farm animals were fed contaminated food products.
The devastating outbreak of Foot and Mouth in 2001 is thought to have originated from pigs being fed catering waste from the virus, which came from outside the UK. It resulted in the destruction of more than 10million cattle and sheep.
NFU Scotland policy manager Penny Middleton said: "Scotland's pig industry is acutely aware of the damage diseases like African Swine Fever and Foot and Mouth could do to our sector. The devastating loss of countless animals and the long term damage to important export markets would cripple Scottish pig production.
"Feeding kitchen scraps and catering waste exposes pigs to a risk of disease, in both commercial and pet animals. NFU Scotland urges all keepers of pigs, even those keeping pigs as pets, to resist the temptation to feed scraps to their pigs, including treats, and only use recognised pig feed purchased from approved agricultural suppliers."