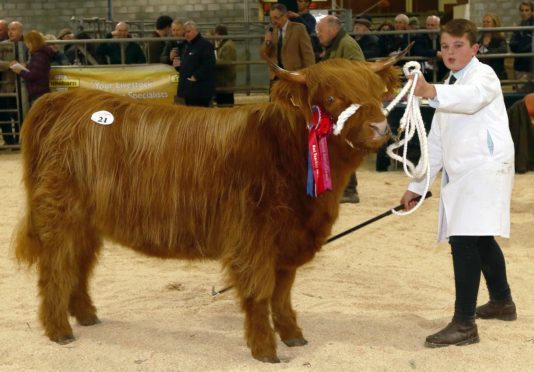 The future of Oban as the venue for sales of Highland cattle has been put in doubt after entries of cows and heifers at the traditional centre plummeted this year.
Speaking at the Highland Cattle Society's 121st annual show at Oban Livestock Centre, breed president, Gordon McConachie said members are about to be surveyed to find out why the numbers of two and three-year-old females have almost halved in just three years.
"The entry is significantly back and while the quality is still there, it's disappointing," he said.
"We need volume, so we will ask the membership what has happened and hopefully get a steer by our February annual meeting. Is the location putting them off or are they selling more privately?
"All options are on the table and numbers will dictate the road we go down.
"As a society we need to move forward and we can't justify opening a market for 50-60 beasts. However we will concentrate on boosting numbers here first."
Leaving the Oban centre is likely to be unpopular with many core breeders, but Stirling has already been tested as a venue and last year bulls sold there to a top of 5,000gn.
Mr McConachie said that proved there was a market at alternative centres.
Other modernising measures being considered by the society are DNA testing and tissue-tagging in order to establish a database of breed genetics.
Mr McConachie said: "We are a bit behind other breeds as we have no statistical recording information and ultimately buyers will look for facts and data behind the product."
The president's 18-month-old heifer, Arin 3rd of Culfoich, won the championship at yesterday's show. This daughter of Jacob 2nd of Benmore was reserve senior champion at the Black Isle Show this summer, her only major outing.
She was shown by 13-year-old Logan Ross who was also judged top young exhibitor.
Mr McConachie also won the two-year-old class with a full sister of the champion.
Show judge, David Soutar, former manager at Strathmore Farming Company, described the champion as "correct in every way – with a tremendous spark."
Fife breeders Donald and Malcolm MacNaughton from Kelty won the cow class with six-year-old Rachel Buidhe of Ceannacroic and her January-born bull calf, Cruachan of Rannoch. The MacNaughtons have three females and a calf for sale today.
nnicolson@thecourier.co.uk