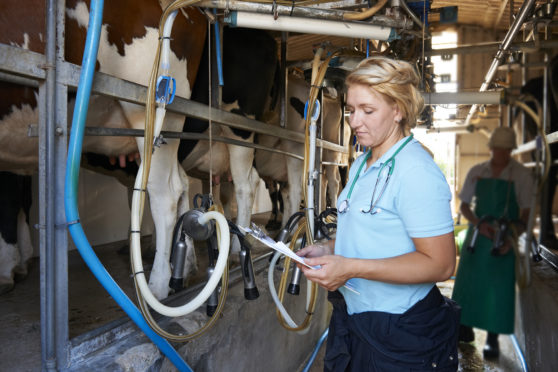 Livestock post-mortem examination (PM) facilities are to be axed in Perth and Ayr from next year in a cost-cutting move announced by Scotland's Rural College (SRUC).
From April, farmers in Perthshire and Angus will have to send carcases to Aberdeen, and producers in Fife will be forced to send dead stock to St Boswells if they want to find out why they died.
Closure of the Perth PM facilities is likely to mean the loss of three jobs, and 35 staff are being consulted across all sites in a move that will affect 30% of the SRUC Veterinary Services workforce.
The cuts follow the closure of similar services in the Lothians and Inverness earlier this year.
PM facilities in Aberdeen, Thurso, Dumfries and St Boswells will remain in the new model, which was proposed nine years ago in the Kinnaird review of farm animal disease surveillance.
SRUC head of veterinary services George Cadzow said vet "hubs" would replace the current services, with two veterinary investigation officers (VIOs) employed in Perth to liaise directly with local vets, who will also be offered training and support.
He said: "These VIOs will also be available to get involved on farm at the invitation of the vet or farmer to add to their expertise and allow difficult situations to be investigated at an early stage. The cost of that service would be covered by the surveillance budget.
"While we believe the hubs are the right way to go, we do understand there's a lot of development work to be done and we will be investing in hubs to make sure they're fit for purpose."
The farmers' union said it recognised cost savings were necessary and there was "logic in the centralisation of the diagnostic services", but added it was vital disease surveillance was not weakened as a result of the changes.
NFU Scotland president Andrew McCornick said: "The proposal to maintain local presence through veterinary 'hubs' in the areas facing closure is encouraging. The working of these hubs and proposed greater practical involvement of local vets, carrying out sampling and on farm post- mortems, will be critical in how well the future service can deliver for both surveillance and farmer service."
nnicolson@thecourier.co.uk