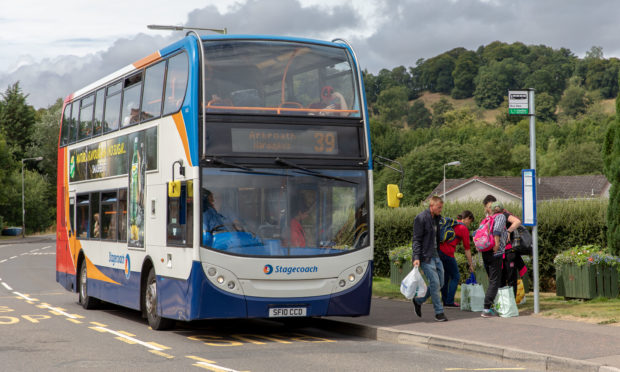 Councillors have said they have "big concerns" about proposals to slash a busy bus route between Perth and Scone.
Stagecoach East Scotland is consulting on plans to make cuts to more than a dozen Perthshire services, most of which are in line to be implemented on February 24.
One of the most contentious proposals is a reduction in frequency of the number 7 service, which connects Oakbank and Scone with the city centre.
Some journeys in the Scone area will cease altogether if the shakeup goes ahead, with the 57 service being diverted to fill these gaps.
Stagecoach said there had been a 2.3% drop in passengers and the service will no longer call at the Perth park and ride site early in the mornings and late at night.
Passengers will no longer be able to travel from Scone to Broxden without  a connection in the city centre, should the plans go through.
The number 7 route was spilt recently to create 7A and 7B services, each covering part of the distance. Under the new proposals it will return to a single journey.
Stagecoach said the planned changes were due to range of factors, including decline in use and a reduction in the subsidy it receives from outside agency.
Residents can comment on the proposals by emailing Stagecoach before Friday.
Perth City South councillor Willie Wilson said he and a colleague held talks with the bus firm recently and they were given no clue that changes were in the offing.
"I was completely surprised to learn of proposals to change the number 7 bus route," he said.
"Councillor Lewis Simpson and myself met senior managers at Stagecoach towards the end of the year and discussed details of the current service. We were given no indication of proposed major changes.
"I'm at a loss to understand at this stage why they are being proposed. Residents in Hillend, Oakbank, Cherrybank and Burghmuir will be anxious about a reduction as they are most affected. People will be very concerned about the frequency of the service in Scone as well."
Douglas Robertson, managing director of the transport firm's East Scotland branch said: "We continually review our network to identify customer demand and opportunities whilst ensuring its long term sustainability.
"The decline in retail within the local economy has had a direct impact on passenger usage in many towns outside the big cities."
Other routes set to change as part of Stagecoach's proposals include the 14 and 14A connecting Pitcairngreen and Ruthvenfield with Perth and the 56 connecting Kinross and Glenfarg with Perth.