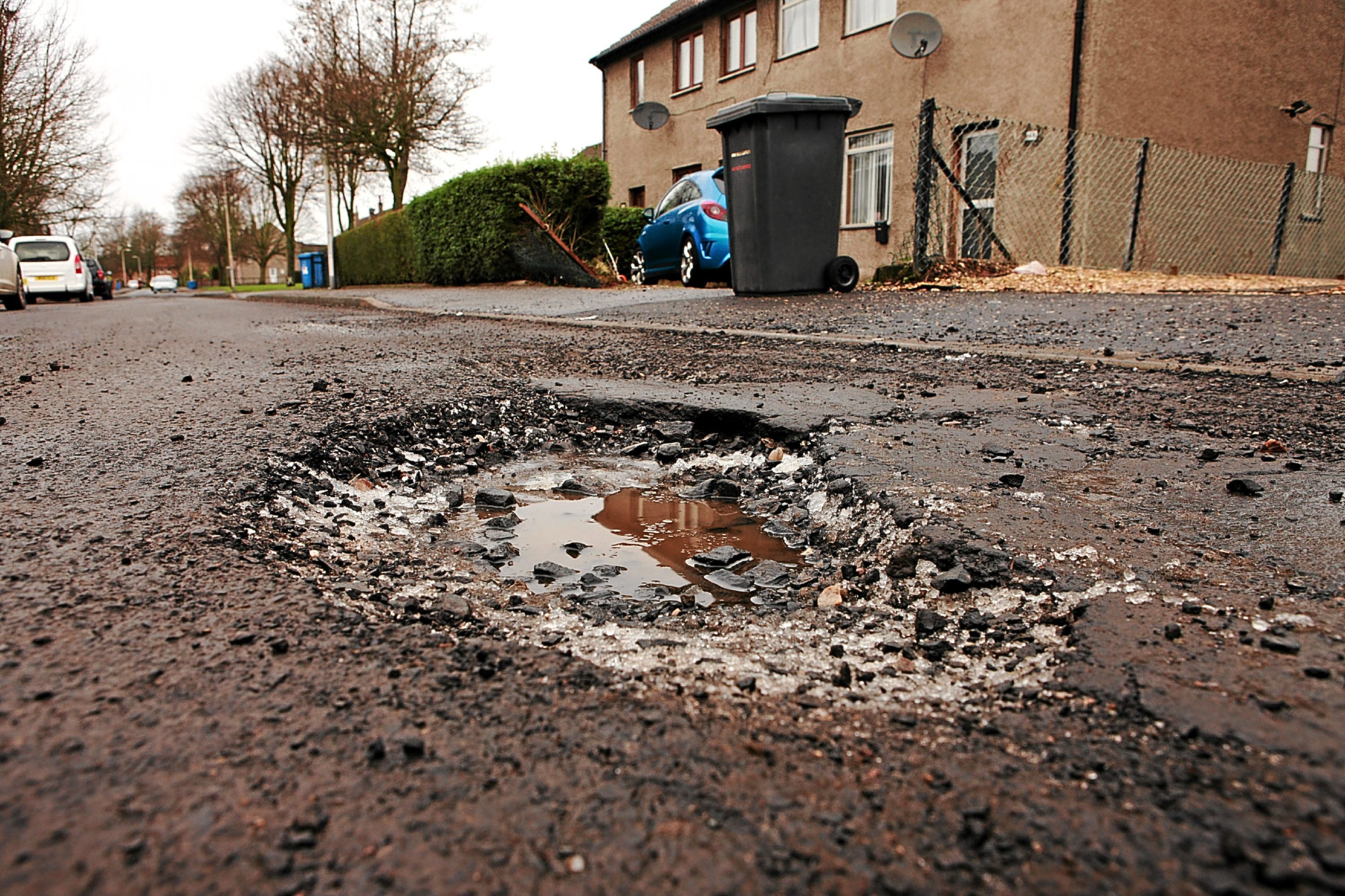 A third of Scotland's roads are crumbling and council cutbacks mean they will deteriorate further, according to a damning new report.
Audit Scotland said urgent action is needed if the condition of the country's roads is to improve, with proper maintenance of the network vital for economic prosperity and for people to get around safely.
The auditor general's assessment, published on Thursday, will make for uncomfortable reading for some local authorities.
It says Perth and Kinross and Angus councils are not spending enough money to maintain the current quality of roads, meaning perilous potholes could become more common.
Angus was one of the better performing authorities in Scotland, coming seventh in terms of the largest percentage of "acceptable" routes, but PKC was in the bottom ten.
Fife is bucking the trend with a 50% increase in spending, albeit from a relatively low level compared to the rest of the country, leading to the number of acceptable roads increasing and further improvements expected.
The number of "acceptable" roads has fallen slightly in Dundee but spending has increased significantly to a level which would see improvement, the report said.
Accounts Commission chair Douglas Sinclair, flagged up cuts to local authorities as contributing to the problem.
But he added: "Councils face increasing pressures and challenges but progress in developing a shared services approach for roads has been disappointingly slow. They can and should collaborate much more to secure better value for money."
Conservative transport spokesman Alex Johnstone said: "This is a damning report which exposes how the SNP has let the state of Scotland's roads slip significantly."
Andy Willox, the FSB's Scottish policy convenor, said: "We need to see our political leaders develop a plan to fix this problem and many in the business community are fed up with a lack of action."
A Scottish Government spokeswoman said: "Despite on-going cuts to our budget by the UK Government, the Scottish Government has delivered a fair funding settlement with over £10.3 billion to local authorities in 2016/17. It is the responsibility of each local authority to allocate resources on the basis of local needs and priorities."
A spokeswoman for Perth and Kinross Council's welcomed the report and said work was "well under way" to implement its recommendations.
She added: "While we note the statements on the reduction in routine maintenance; the report does not make reference to the additional £2milion per annum this council included in its roads maintenance budget in February this year."
An Angus Council spokesman said the authority was pleased to have secured a place in the top quartile of authorities.
A five-week road improvement programme, involving surface dressing about 50km of carriageway at 36 site, was recently undertaken.
The spokesman said: "This is in spite of the reduced funding available to us and the significant challenges that presents."
Pat Callaghan, Fife Council's transportation spokesman, said: "Despite financial pressures and constraints, our commitment to maintaining our roads remain the same and our team of officers work around the clock to ensure this happens."
Will Dawson, convener of Dundee City Council's city development committee, said: "According to the most recent statistics in two years the road maintenance partnership between the council and Tayside Contracts has almost doubled the number of potholes fixed first time permanently to 7,201.
"This can only be good news for drivers who do not have to contend with these hazards opening up again in the same place after a temporary fix has been put in."