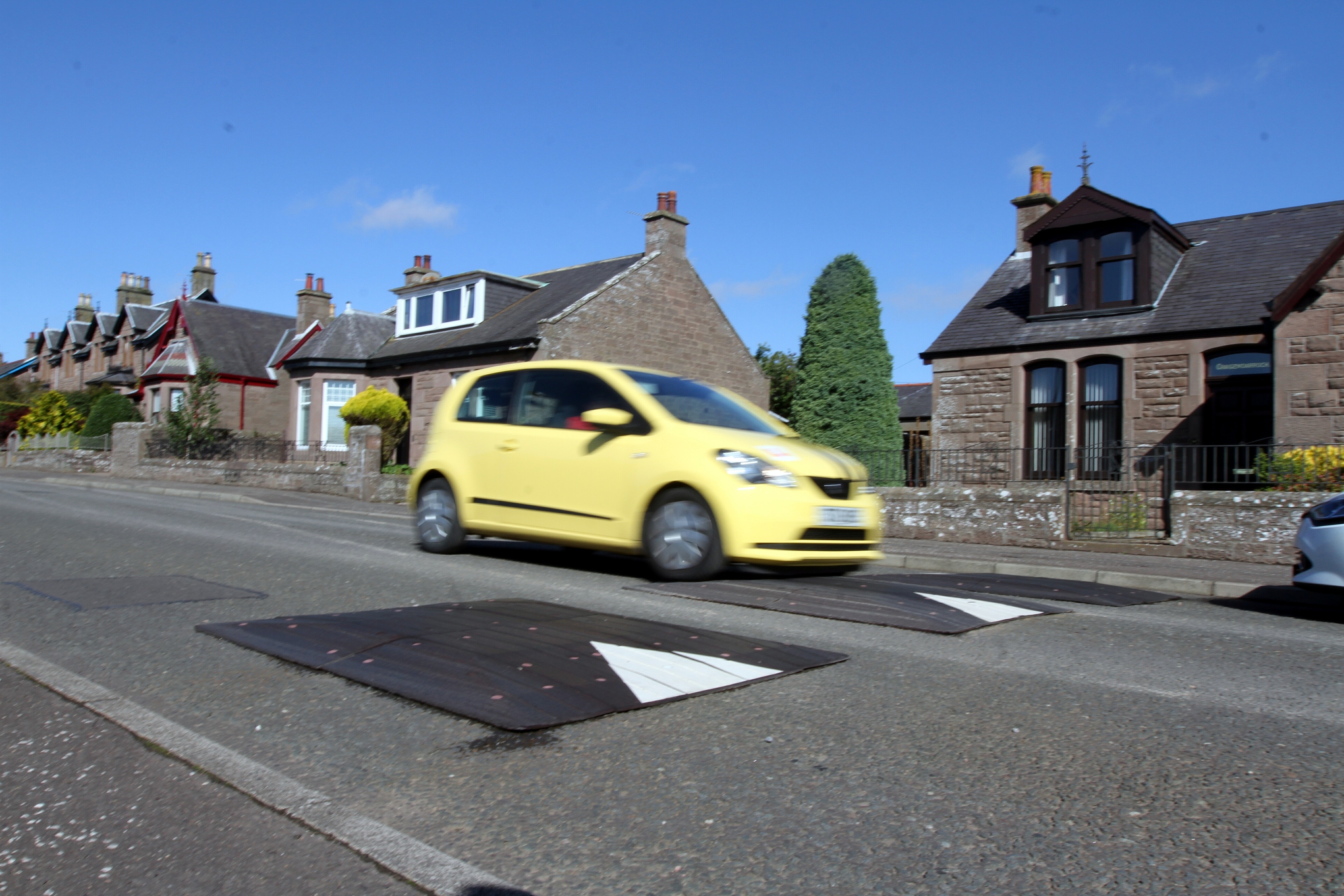 Fears that Taylor Street in Forfar could be turned into a racetrack if traffic calming measures are removed have led to councillors backing the retention of the controversial speed humps.
Members of the communities committee were asked to decide on the bumps in the road, which runs past the site of the former Forfar Academy and acts as an access route for the new Forfar Community Campus.
They agreed to keep the measures in place, saying their removal could impact on pupil and pedestrian safety and lead to a rise in speeding traffic.
A report by Ian Cochrane, head of technical and property services, said a survey of pupil numbers and associated traffic had been carried out, along with a  public consultation.
More than half of responses (58%) from across the school catchment area backed the removal of the existing traffic calming measures, but 56% of households on Taylor Street wanted them to stay.
Forfar Independent councillor Ian McLaren said he sympathised with motorists who use Taylor Street regularly and understood why they might want to see the back of the humps.
However, he continued: "We must consider that there are around 600 pupils plus pedestrians who use this route daily to and from Forfar campus.
"My main concern is the safety of these pupils and pedestrians, therefore I am not in favour of the removal of the speed humps. I know they are not popular but they are one of the most effective ways to control traffic speeds."
The committee was told the speed limit in Taylor Street is 20mph and it would remain so if the traffic calming measures were removed.
But Montrose Independent Councillor Tommy Stewart said limits alone were not enough to curb speeds.
"Where I live in Montrose there is a mandatory 20 mile per hour limit with only one speed hump – the rest of it is likened to Brands Hatch," he said.
"We should be listening to the residents of the street."
Forfar Conservative Councillor Braden Davy, who asked for his dissent to be noted after the committee agreed to retain the traffic calming measures, was the sole voice calling for the humps to be removed.
He said : "I've had emails and letters from many constituents about the damage to their cars – suspension issues, wheel alignment issues, wear and tear on tyres from excessive use.
"The layout of these humps do nothing to slow down motorbikes, vans, SUVs and larger cars while pushing traffic onto neighbouring streets including North Loch Road and Robertson Terrace."
Forfar SNP councillor Lynne Devine spoke for the rest of the committee when she said: "The people of Taylor Street are my main concern – they have said they want them to stay for very good reasons.
"The road is very straight and there are quite a few drivers at the moment who are very speedy. Let's just leave them as they are."