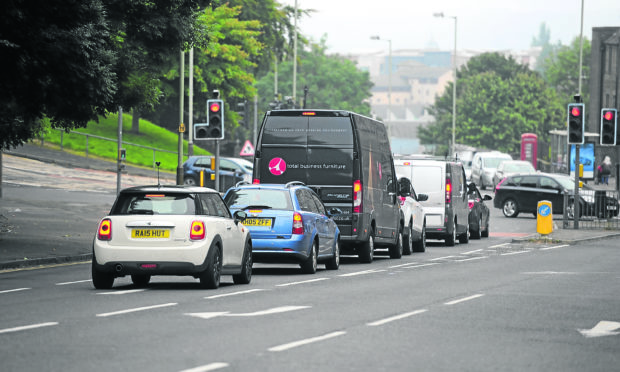 Councillors in Dundee have urged the local authority to speed up plans to create a low emissions zone (LEZ) in the city.
Dundee City Council has to introduce the scheme by the end of next year.
But a report presented to councillors said plans for the zone – which would either restrict vehicles with high emissions from entering a specific area or charge them for doing so – remain at an early stage.
No location has yet been chosen although several streets in Dundee, such as Lochee Road and the Seagate, are notorious for their poor air quality.
The report stated: "Officers of the council have recently set up a LEZ delivery group to steer the Dundee LEZ in order to meet the 2020 timescales.
" The LEZ development is at a very early stage and no decisions on its scope have been made through the development process."
West End Liberal Democrat councillor Fraser Macpherson said he was disappointed there appeared to have been little progress since the LEZ was first discussed in November 2017 and asked for a full briefing before the end of the financial year.
Tom Stirling, head of community safety and public protection at the city council, said progress was likely to accelerate now funding has been awarded to the local authority.
Lochee Labour councillor Michael Marra demanded to know how much engagement there had been with businesses – particularly bus companies – about the implementation of the scheme.
He said: "The update seems to be there were meetings and that a delivery group has been formed that's had one meeting – it doesn't seem like substantial progress.
"What discussions have there been with the two main bus companies in Dundee? I am less concerned about the impact on the money in (Stagecoach owner) Brian Souter's back pocket than I am about the health of people in the community."
Committee convener Alan Ross said: "There has been a lot of ongoing discussion with bus companies."
He added that Xplore Dundee has a fleet of environmentally friendly buses that are being used on routes around the city.
Fellow SNP councillor Willie Sawers added: "People need to recognise this project is going ahead because of funding from the Scottish Government."
Scotland's first LEZ opened in Glasgow on Hogmanay.
A fifth of all buses in the city centre will have to meet tougher new emissions standards.
The scheme will be enforced through the use of automatic number plate recognition cameras.